Sri Lanka emerging as transit hub for cocaine smugglers: officials
Posted by Editor on September 1, 2017 - 6:59 am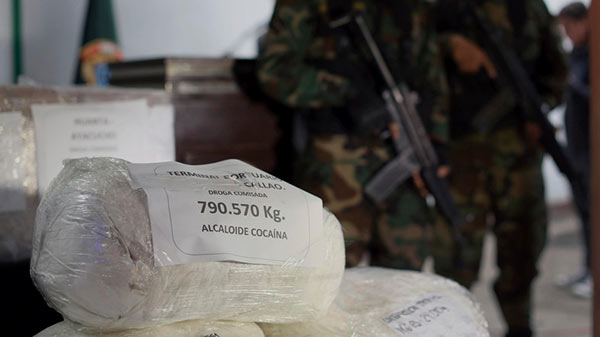 International cocaine smugglers are increasingly turning to Sri Lankan as a transit hub in Asia, authorities say, after they made a series of seizures of the drug, some smuggled in containers of sugar from Brazil.
Sri Lankan customs have seized six shipments of high-purity South American cocaine in 14 months, including Asia's largest-ever haul of the drug in December, at its main port.
"Sri Lanka is becoming a hub for cocaine as it is a risk-free location with less legal restrictions," a top police official who is aware of investigations into the smuggling told Reuters this week.
"We don't believe that these containers came here mistakenly. Why are these cocaine containers not going to any other country which imports Brazil sugar?"
About 1,770 kg, or $140 million worth of cocaine, had been seized in Sri Lanka, of which 840 kg was found in five sugar shipments from Brazil.
A 928 kg seizure – the largest cocaine haul in Asia – was found in a container of timber on a Colombian ship bound for India.
Police could not say if Sri Lanka was the final destination for any of the cocaine but a government minister said he believed all of the drugs were bound for elsewhere.
"Sri Lanka is a transit point for mass-scale drug dealers," Minister of Law and Order Sagala Ratnayaka told Reuters.
He cited Sri Lanka's location at the center of Asia, but declined to speculate on where the drugs were heading, while adding that it would be "unfair" to label Sri Lanka Asia's new cocaine hub.
Sugar importers have stopped buying from Brazil, citing problems with customs clearance following increased scrutiny at the port.
Customs spokesman Sunil Jayaratne said the smugglers were also believed to sometimes transfer shipments to small boats at sea before bringing the drugs ashore.
"After reaching here, they go out in small boats, they use fishing boats," Jayaratne told Reuters.
The senior police official said the gangs were looking to mask their shipments to Australian and European markets by bringing them into Sir Lanka, then sending them on in Sri Lankan containers.
South Asian counter-narcotics agencies have traditionally focused on heroin and synthetic drugs and the recent cocaine seizures were a surprise, a U.N. anti-drugs official said.
"This is very confusing as to why this amount of cocaine is transiting through Colombo," Shanaka Jayasekara, program coordinator for United Nations Office on Drugs and Crime in Colombo told Reuters.
He said Colombo port had possibly been identified as an "easy trans-shipment point" as containers are not checked.
"Sri Lanka does not have a market for cocaine," he said, adding the final destination of the drugs could be Europe.
(Reuters)
Latest Headlines in Sri Lanka