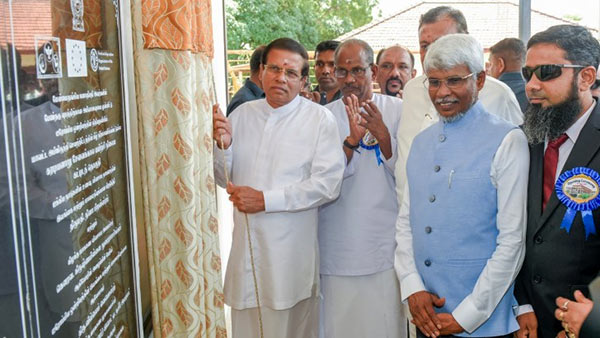 President Maithripala Sirisena says the National Economic Council which was appointed by him to make a comprehensive transformation in the agriculture and industrial sectors in the country, with the objective of strengthening of the national economy, will meet for the first time on the 12th of September.
He mentioned the Asian Development Bank and the World Bank have agreed to grant financial provisions for this program. He expressed his confidence over the success of this program to strengthen the economy of this country and that of the people.
The President made these remarks at the ceremony to open the Agricultural Services Training Center in Karadiyanaru in Batticaloa yesterday (Aug. 31).
He said the entire country should be prepared for the agricultural war in the coming season, after the rainfall to be occurred after this dry weather.
President Sirisena stated an agricultural week will be declared in the first week of October and a comprehensive agricultural program which will unite the entire country will be implemented during the week. He said a cabinet decision will be taken to unite all ministries and institutions for this program.
He further stated that paddy fields of 800,000 hectares will be cultivated under this agricultural program. He said the government will provide the required 4,000,000 bushels of seed paddy to the farmers.
"Through all development activities, the government has given priority to save the people from poverty and strengthen their economy. I will not keep the people in hunger whatsoever the challenges I have to face", he emphasized.
The President stated about 800,000 families in 14 districts have been affected with the dry weather conditions. He said the government is spending Rs. 3100 million to provide them dry rations.
The Karadiyanaru Service Training Center was established in 1980 and closed down in 1986 due to the conflict. It was re-established in 2016 under the guidance of President Sirisena with Rs. 83 million donation from European Union and Rs. 20 million allocation by the government of Sri Lanka. This was also supported by the Food and Agriculture Organization of the United Nations.
The objective of this program is to increase the productivity, management of soil resources, making room for a commercial agricultural system, modernize the agriculture through modern technology, promote the modern farming system under an environmental and humanitarian system.
The President launched the website of the Agricultural Services Training Center.
Governor of the Eastern Province Rohitha Bogollagama, Chief Minister Nazeer Ahamad, Deputy Minister Amir Ali, Eastern Provincial Minister Ariyawathie Galappaththi and the Eastern Provincial Agricultural Minister Thureirasasingam were among those participated in this occasion.
(President's Media)