Sri Lanka Expects Higher Spending in 2010 to Rebuild After War
Posted by Editor on June 9, 2010 - 1:13 am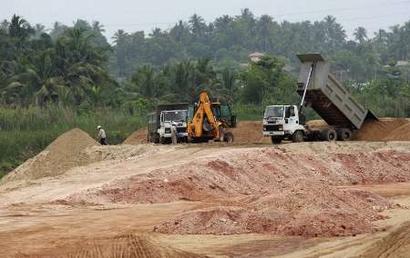 Sri Lanka may increase public spending in 2010 as the government builds roads, ports and power plants after the end of almost three decades of war on the South Asian island.
Government expenditure, including debt repayment, is forecast to total 1.78 trillion rupees ($15.7 billion) this year, according to the Appropriation Bill tabled in parliament today. The bill outlines spending estimates ahead of the annual budget to be presented June 29. The total spending in 2009 was 1.75 trillion rupees, according to finance ministry figures.
President Mahinda Rajapaksa, who won re-election in January after ending the Tamil Tiger rebels' 26-year fight for a separate homeland, has pledged to spend $1 billion to help drive growth to the fastest pace in three years in 2010. Still, Sri Lanka plans to nearly halve its budget shortfall in three years as faster economic expansion after the war boosts tax revenue, Treasury Secretary P.B. Jayasundera said April 6.
"With a lot of capital spending planned, the government needs to find ways to generate revenue and curtail the deficit to win the confidence of foreign investors and donors," said Saminda Weerasinghe, research manager at Acuity Stockbrokers Pvt. in Colombo. "Fiscal indiscipline could also constrain monetary policy."
The International Monetary Fund said last month it may give Sri Lanka the next installment of funds under its $2.6 billion bailout package as the South Asian government pledged to cut its budget deficit. The Washington-based lender said in February it may consider changing its aid program to the country as the government failed to contain its 2009 budget shortfall.
New Tax Regime
Sri Lanka's 2010 budget will include a "new tax regime while rationalizing public spending," Jayasundera said in April. He said the government aims to narrow its budget gap to 5 percent of gross domestic product by 2012 from 9.7 percent in 2009 and an estimated 7.5 percent in 2010.
The government may spend an estimated 30 billion rupees on the ports and aviation ministry, 83 billion rupees on highways, 26 billion rupees on power and energy and 60 billion rupees on a new economic development ministry, according to the bill.
The bill estimates defense spending at 202 billion rupees for 2010. The outlay on defense last year was 189 billion rupees, according to the central bank.
The government's annual budget, which is usually presented in the preceding November, was delayed by parliamentary elections in April.
–With assistance from Asantha Sirimanne in Colombo. Editors: Stephanie Phang, Lily Nonomiya
To contact the reporter on this story: Anusha Ondaatjie in Colombo at anushao@bloomberg.net
To contact the editor responsible for this story: Stephen Foxwell at sfoxwell@bloomberg.net
Bloomberg
Latest Headlines in Sri Lanka