Fonseka denies 'traitor' charges
Posted by Editor on June 9, 2010 - 1:38 am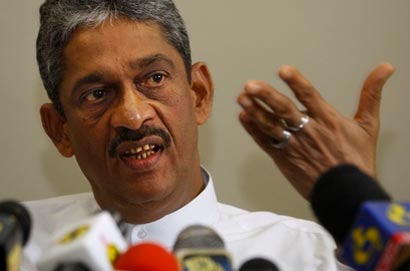 BBC News – By Charles Haviland – (Pix by AP)
The former armed forces chief in Sri Lanka, General Sarath Fonseka, has denied being a liar or committing treason in speaking of the possibility of war crimes having been committed on the island.
He was speaking to the BBC Sinhala service a day after the country's defence secretary, Gotabhaya Rajapaksa – once a close ally of the general – described him as a liar and threatened him with execution.
He spoke to Chandana Keerthi Bandara of BBC Sandeshaya
on the phone while attending parliament, which he can do since being elected as an MP two months ago.
He said he was neither a liar nor a traitor.
"How can it be? If I cover up, if I hush up things, if I don't tell the truth fully I will become a traitor," he said.
'Throwing mud'
Sarath Fonseka accused the defence secretary, Gotabhaya Rajapaksa, of "throwing mud" after Mr Rajapaksa told the BBC Hard Talk programme that the general was a liar and might be hanged for – as he put it – betraying the country.
"If I know anything about war crimes my duty is to expose. That is what we are supposed to do as a responsible citizen, as a responsible ex-army officer, or as a responsible MP – we are not supposed to cover up anything," he added.
That was in response to General Fonseka saying he'd be prepared to testify before any independent investigation of alleged breaches of humanitarian law during the state's war against the Tamil Tigers – even though he himself was army commander at that time.
Gotabhaya Rajapaksa has meanwhile sought to clarify his remarks.
He told a local news website that what he meant was that if the General was found guilty of treason, he could be sentenced to death.
General Fonseka,who has been in military custody for four months, is currently undergoing two military trials and one civilian one but in none of them has he been charged with treason.
Meanwhile about 150 of Sarath Fonseka's supporters and relatives have held a candle-lit vigil to mark exactly four months since the government dragged him forcibly into detention.
Latest Headlines in Sri Lanka