Sri Lanka Government hoping to restructure $17 billion foreign debts along with local debts
Posted by Editor on June 27, 2023 - 9:47 pm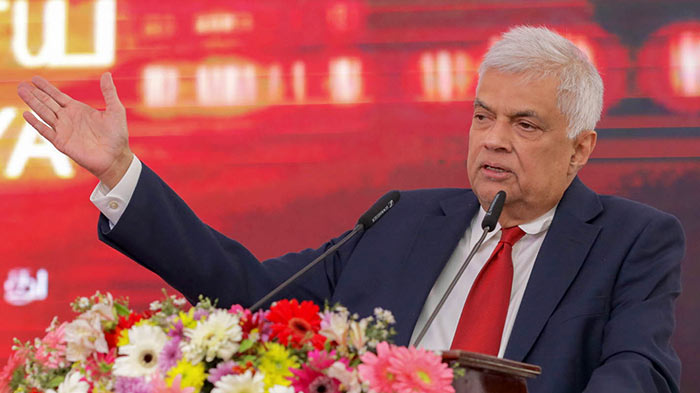 Sri Lanka Government is anticipating the restructuring of USD 17 billion out of a total of 41.5 billion of foreign debts within a 5-year term, President Ranil Wickremesinghe said today (June 27).
Speaking at the inauguration of the Gampaha District Secretariat Administrative Complex, 'Laksiyane Mandiraya'. This seven-story tall building has been constructed at a cost of nearly Rs. 4 billion.
President said local debt should also be restructured in line with foreign debt restructuring and he stated that the restructuring of domestic debt will not pose any threat to the stability of the country's banking system, whether it be public or private banks.
He specifically mentioned that the deposits of more than 50 million bank depositors will remain unaffected, and there will be no changes to the current interest rates paid on bank deposits.
President Ranil Wickremesinghe also announced that proposals for restructuring both foreign and domestic debt will be presented to the Cabinet tomorrow (June 28).
It was highlighted that Sri Lanka's total public debt, comprising both domestic and foreign debt, amounted to $83,700 million by the end of 2022, representing 128.3% of the Gross Domestic Product (GDP).
Of this amount, the foreign debt totalled $41,500 million, accounting for 63.6% of the GDP. The President also noted that the domestic debt at that time stood at $42,100 million, which constituted 64.6% of the GDP.
The President highlighted the urgency of restructuring the country's debt, stating that without such measures, the public debt would exceed 100% of the GDP by 2035.
He emphasized that foreign creditors have already expressed their agreement to participate in the debt restructuring process.
To ensure debt sustainability in Sri Lanka, the President emphasized the need for restructuring both external and domestic debt.
Acknowledging the significant burden carried by foreign creditors, he mentioned that the country is set to receive 17 billion US dollars from them in the next five years.
President Ranil Wickremesinghe emphasized the importance of local creditors also contributing to this effort.
The proposed debt restructuring plan has been designed with the primary objective of safeguarding the public's bank deposits.
The President underlined the responsibility of protecting the depositors of all banks regulated by the Central Bank.
He assured that the proposed domestic debt restructuring method poses no harm to bank depositors and will not lead to a collapse of the banking system.
On the contrary, it will pave the way for a restructuring process that can rebuild the economy.
The President further stated that the country's economic recovery, reduction in interest rates, the government's ability to provide subsidies easily, and the reduction of both domestic and foreign debt burden in the next decade will yield positive results benefiting the people of the country.
Latest Headlines in Sri Lanka