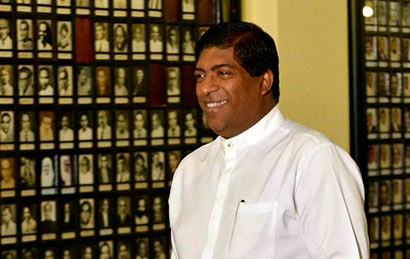 Sri Lanka's new government Thursday announced hefty taxes on top companies in a bid to raise revenue, accusing the previous regime of fudging the figures and leaving the economy in a "sad state".
Finance Minister Ravi Karunanayake also said prices of essential food items would be slashed to cut the cost of living for average Sri Lankans, as he unveiled his government's supplementary budget.
Karunanayake said public debt had been hidden and growth artificially inflated by the regime of Mahinda Rajapakse, who was ousted after 10 years in elections this month on claims of corruption and cronyism.
"The officials and economic experts have looked into the figures and now the economics of deceit and falsehood had surfaced," Karunanayake told parliament.
"The bad news is that economy is in a sad state, and the good news it is not beyond resurrection and is in safe and sound hands," he said, pledging a transparent government.
Karunanayake announced a "super" tax of 25 percent on companies which earn annual net profit of more than two billion rupees ($15.38 million), and a one-billion-rupee ($7.56-million) tax on Sri Lanka's handful of local casinos.
He revealed tax cuts on a dozen essential food items including milk powder and bread, and granted a 10,000-rupee ($76) salary increase to more than 1.6 million public servants.
A "mansion" tax of one million rupees ($7,700) will also be imposed annually on owners of large homes, the minister said.
The new government last week reduced fuel by 20 percent and pledged further reductions, in populist measures ahead of parliamentary polls.
Sri Lanka's new President Maithripala Sirisena has pledged to dissolve parliament in April, two years ahead of time, and call an election aimed at strengthening his hold on power.
Karunanayake said debt was 88.9 percent of GDP, sharply higher than the Sri Lankan central bank's figure of 74.5 percent given before the change of government.
Sri Lanka reported more than eight percent in the first two years after the end of a decades-long separatist war in 2009, and has recorded steady growth since then.
But Karunanayake branded those figures highly suspect, although he did not estimate what the actual figures were.
Karunanayake's government has accused the former regime of stealing at least $5.38 billion in 2013 alone by inflating costs of mega infrastructure projects.
Former strongman Rajapakse, who has also been accused of stacking his former regime with relatives, has denied such kickbacks.
(AFP)