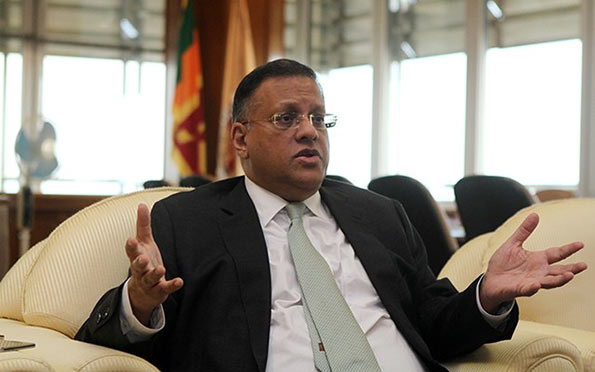 A Sri Lankan commission investigating possible irregularities in government bond sales recorded a statement on Friday by former central bank governor Arjuna Mahendran, who oversaw a controversial sale.
Mahendran, who has denied any wrongdoing, declined to comment after a police criminal investigations department attached to the commission recorded a statement for three hours. The secretary of the commission said the statement was not open to the public.
Mahendran made the statement days after central bank officials confirmed to the commission that he came to the government's debt office on Feb. 27, 2015, when the bond sale took place.
President Maithripala Sirisena appointed the commission to investigate the sale after opposition lawmakers demanded an independent inquiry. They charge that the sale has cost the state more than $1 billion in rising borrowing costs over the past two years. The central bank rejects those claims.
Sirisena appointed career central banker Indrajith Coomaraswamy to replace Mahendran in July last year, after civic organizations that backed Sirisena in a January 2015 election demanded Mahendran not be re-appointed.
The commission questioned Coomaraswamy on the alleged irregularities in the issuance of treasury bonds two weeks ago.
The February 2015 bond auction was originally intended to sell 1 billion rupees ($7 million) of 30-year bonds. It eventually grew to more than 10 times that amount, to meet government borrowing needs.
More than half of the issue was sold to Perpetual Treasuries, a subsidiary of a company owned by Mahendran's son-in-law, in what has been criticised as a conflict of interest.
Both Mahendran and his son-in-law, Arjun Aloysius, have denied any wrongdoing. So do officials at Perpetual Treasuries.
Coomaraswamy told reporters in early February the central bank had taken some action against Perpetual Treasuries after a preliminary investigation, but he declined to elaborate on the actions taken.
(Reuters)