Sri Lanka Killed No Tamil Nadu Fisherman in Indian Waters: India
Posted by Editor on January 21, 2014 - 10:28 am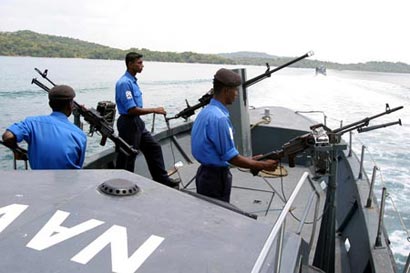 Not a single fisherman from TN has been killed by the Sri Lankan Navy since April 2011 in Indian waters, the Central Government has informed the Madras HC (Madurai Bench). Further no warships were being sold to Lanka and only Offshore Patrol Vehicles (OPVs) would be traded.
The submissions were made in a counter affidavit filed by Mayank Joshi, Deputy Secretary (Sri Lanka) on behalf of the Union Ministries of External Affairs and Defence in response to a petition seeking to stop the proposed sale of warships to Sri Lanka.
The petitioner had expressed apprehension that the warships could be used by the Island Nation to attack TN fishermen, who was repeatedly fired at in mid-sea by the Navy. Denying the charges, Joshi said the ICG ships on patrol duty had not come across incidents of Indian fishermen being fired upon while fishing in Indian waters.
Further he said the Lankan Navy had categorically stated that it never entered Indian waters. Besides, the Island Nation's Navy had assured that they have been adhering to a "No Firing" policy on Indian fishermen.
The affidavit said that the Indian Government had reached a mutual understanding with the Sri Lankan Navy. As per this the latter would not open fire at Indian fishing vessels and Indian fishermen would not venture into sensitive areas.
Stating that the IMBL was being regularly patrolled by ships and aircraft of the Indian Navy and Coast Guard for the safety of Indian fishermen, Joshi said, "It is only as a result of these efforts of the Government, that no cause of deaths of Indian Fishermen has been reported after April 2011."
Therefore, he contended that apprehension of  the petitioner that the warships would be used to kill Indian fishermen was baseless. The affidavit said the OPV is only 105.7 mtr in length with a cruising speed of 12-14 knots and it is not a warship.  Hence the Centre prayed the HC to dismiss the petition. (Indian Express)
Latest Headlines in Sri Lanka