Sri Lanka look to bounce back at CWC15
Posted by Editor on February 21, 2015 - 9:53 am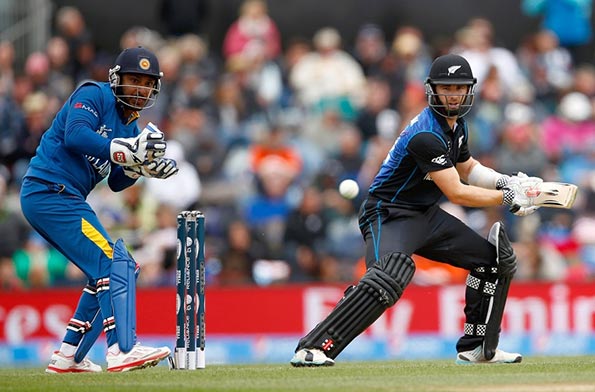 Sri Lanka get the chance to atone for their first up loss to New Zealand in the World Cup when they play tournament novices Afghanistan in Dunedin on Sunday.
It is a game the Sri Lankans – particularly bowling spearhead Lasith Malinga – need to start feeling comfortable in the battle to sort out the pecking order of the top four in Pool A.
With Australia and New Zealand likely to contest the top two play-off berths, and rankings suggest Sri Lanka are against England for the third and fourth places in a group that also includes Afghanistan, Bangladesh and Scotland.
Ireland have already proven in Pool B that upsets are possible with their win over the West Indies, reinforcing for Sri Lanka that they cannot afford to under-estimate Afghanistan.
Sri Lanka have had an eight-day break to reflect on their 98-run loss to New Zealand where Malinga had a nightmare return to action after a six-month injury lay off.
Unable to find a consistent line and length, he was belted all around Hagley Oval in Christchurch and returned his second worst ODI figures of 0-84 off 10 overs.
"We believe he'll come back strongly in the next few matches," Sri Lanka batsman Lahiru Thirimanne said.
A bigger concern was the batting collapse – nine wickets fell for 109 – and sloppy fielding with Thirimanne estimating they gifted New Zealand and extra 20-30 runs.
Only Thirimanne (65) and captain Angleo Mathews (46) showed confidence at the crease.
The big three – Kumar Sangakkara, Mahela Jayawardene and Tillakaratne Dilshan – lacked conviction and will relish the opportunity to play themselves in against a less hostile attack.
Cup debutants Afghanistan have had only a four-day turnaround and a flight from Australia since suffering a steep 105-run loss to Bangladesh first up in Canberra.
Their reply to Bangladesh's 267 started disastrously when they were 3-3 after three overs and ended in the 43rd over, although coach Andy Moles refused to accept it was a true reflection of his side's ability.
He was disappointed that his side put in a commendable effort for 35 overs before concentration levels began to drop.
"Sri Lanka will be a step up, but I think my biggest message is you haven't seen Afghanistan play yet," Moles said.
"The issue with associate cricket is at times it's inconsistency. When we're good, we're very good.
"Hopefully come Sri Lanka, they'll do better. It's like a teacher with children; we have to educate them every day to get better, and you have good days and you have bad days."
If Afghanistan need any inspiration they only have to look at Sri Lanka's emergence on the world stage.
In their first World Cup game, at Old Trafford in 1975, they were all out for 86 in the 38th over against eventual tournament winners the West Indies who only took 21 overs to seal a nine-wicket win.
Two decades later Sri Lanka were the world champions, beating Australia by seven wickets in the 1996 final at Lahore.
(Yahoo News / Pix by GettyImages)
Latest Headlines in Sri Lanka