Sri Lanka maintains growth goal at 7.8 pct despite drought
Posted by Editor on March 25, 2014 - 8:25 am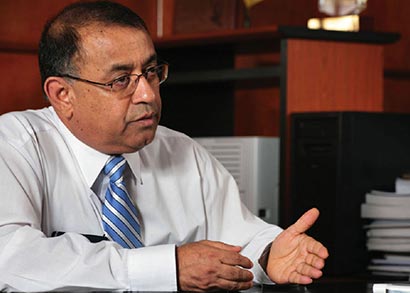 March 24 – Sri Lanka is maintaining its 7.8 percent economic growth target for this year despite a lingering drought because it thinks falling lending rates could spur investment, the country's treasury secretary said on Monday.
P.B. Jayasundera said the combination of lower interest rates and expansion in the export and construction sector could lead to a pick up in spending.
"There is no particular reason for growth to be revised either direction," he told reporters in Colombo.
Sri Lanka kept policy rates steady at multi-year lows on Friday as it hopes that slowing private sector credit expansion will rebound and push up the country's growth pace.
The central bank has cut the repurchase rate by 125 basis points (bps) and reverse repurchase rate by 175 bps to 6.5 percent and 8 percent respectively since December 2012 to spur growth, but commercial banks' lending rates have still been high at around 15 percent.
"Lending rates should stabilise between 10-12 percent at some point," said Jayasundera, who has already ruled out any further rate cut during the next 2-3 months.
The $67 billion economy's private sector credit growth has slowed to near four-year low of 5.2 percent year-on-year in January, compared to the previous month's 7.5 percent.
"We are not in a mighty hurry to bring rates down, because it must be a very smooth adjustment," Jayasundera said.
Despite slowing credit expansion, economic growth picked up to 7.3 percent last year from a three-year low of 6.3 percent in 2012. Boosting growth were massive state-led infrastructure projects started after the end of a 26-year civil war in 2009. (Reuters)
Latest Headlines in Sri Lanka