WIGNESHWARAN CANNOT ACT AGAINST CHIEF SECRETARY
Posted by Editor on March 25, 2014 - 8:30 am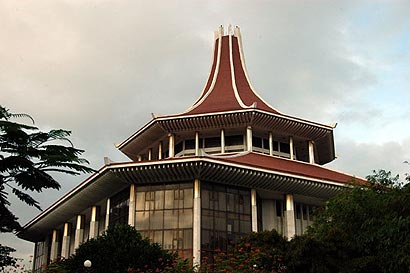 The Supreme Court will take up for inquiry the Fundamental Rights petition filed before it by Northern Provincial Council Chief Secretary Ms. Vijayalaskmi Ramesh seeking to prevent Chief Minister C.V. Wigneswaran from interfering, and attempting to discontinue her from her post as Chief Secretary since the day he assumed office as CM, on July 24. The Supreme Court also issued an interim order until the final determination of the case, barring the Chief Minister from executing his standing instructions issued on February 15 that interferes in the powers vested in the petitioner under the Constitution, and seeks to bring the Chief Secretary under his purview.
The Bench comprised Chief Justice Mohan Peiris PC,and Justices K.Sripavan and Sathya Hettige. The respondents cited are Chief Minister Wigneswaran, Secratary to the President Lalith Weeratunga, Nothern Province Governor G.A. Chandrasiri, Chairman of the Public Service Commission Dr. Dayasiri Fernando and all members of the PSC.
Barring the Chief Minister, all other respondents were represented by Counsel.
Counsel for Petitioner Gomin Dayasri produced in Court the postal receipts
to show that the petition, notice and all other relevant documents were duly dispatched to the respondents.
The Chief Justice observed that it was the duty of the Court to intervene in instances where the Constitution and other laws were being violated by the wrongful exercise of powers.
The Petition was taken up for inquiry under Articles 12(1) and 14(1) of the Constitution.
Counsel for Petitioner addressing Court stated that the powers to appoint and remove the Chief Secretary were solely vested with the President and that her day to day functions came under the purview of the Public Service Commission. The Chief Minister has no powers to interfere in her duties or exercise control over the petitioner.
He said under the 13th Amendment, the Chief Minister's powers do not extend beyond matters concerning the Provincial Police Service and the Provincial Education Service. All other Government servants come under the purview of the Public Service Commission.
However, in terms of the standing instructions issued by the Chief Minister, clear attempts had been made to curtail the Petitioner's powers.
Due to these instructions the Chief Secretary is debarred from venturing out of the province or interacting with the media without seeking the permission of the CM.
State Counsel Nerin Pulle appeared for the Secretary to the President and the PSC. Gomin Dayasri instructed by Kapila Gamage appeared for the petitioner.
(Daily News)
Latest Headlines in Sri Lanka