Sri Lanka neither pro-India nor pro-China: Wickramasinghe
Posted by Editor on April 19, 2015 - 7:54 am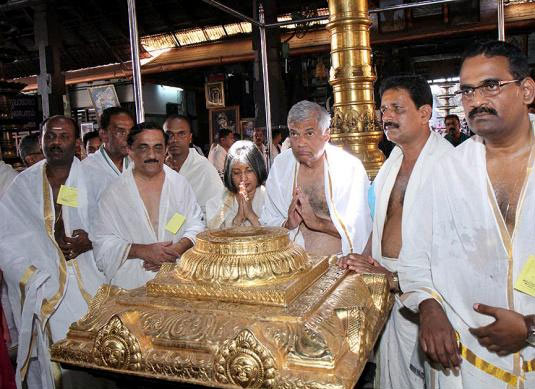 Sri Lankan Prime Minister Ranil Wickramasinghe has said Sri Lanka is neither pro-India nor pro-China. Mr. Wickramasinghe was answering reporters during his visit to the Sreekrishna Temple here on Saturday.
On his controversial statement in an interview to a Tamil TV channel that Indian fishermen might be shot if they intruded into Sri Lankan waters, he said: "The Sri Lankan government primarily represents the interests of Sri Lankans."
Calling for better bilateral ties, Mr. Wickramasinghe said: "We must move ahead," pointing to visits by Sri Lankan President Maithripala Sirisena's to India and Prime Minister Narendra Modi's visit to Sri Lanka." He said: "I had promised to offer worship in the temple if the results in the Sri Lankan elections were favourable." His wife Maitree Wickramasinghe and Sri Lankan Minister for Resettlement, Reconstruction and Hindu Religious Affairs D. M. Swaminathan accompanied him. He offered 'thulabharam' with sandalwood.
(The Hindu)
Latest Headlines in Sri Lanka