Floating armoury report to AG
Posted by Editor on April 19, 2015 - 7:43 am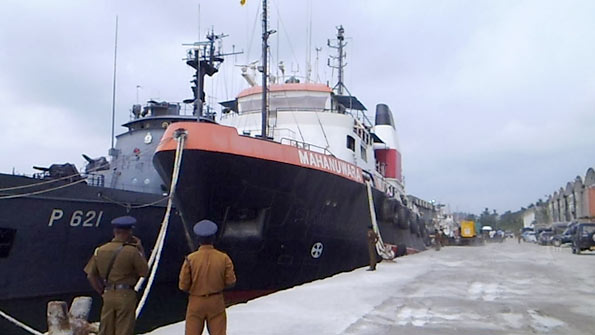 The probe report on the suspected illegal arms deal racket of the Avant Garde and Rakna Araksha Lanka security firms has been handed over to the Attorney General, but government officials were tightlipped on who were being lined up for further investigations and possible criminal prosecution.
According to Police Spokesman ASP Ruwan Gunasekara, the investigations were conducted to ascertain the manner in which the business was established – whether illegal means were used and the legal accountability of the weapons.
"This includes weapons that belonged to the Avant Garde and the private and maritime security companies that used the warehouse," said Gunasekara.
The report is expected to indicate the exact value of the huge amount of foreign exchange the country lost.
Given the global controversy over Sri Lankan maritime defence links in recent years and the allegations of illegal and shady deals during the previous government, there is much international attention on the probe into the maritime security business undertaken with much secrecy by the security firms, Avant Garde and Rakna Araksha Lanka.
On information reaching the Police Southern range DIG office in the post-election days in January, loads of weapons and ammunition were recovered from seven containers on the private naval ship Mahanuwara which was the floating warehouse of the Avant Garde Maritime Services. The ship was in the Galle harbour.
Investigations revealed that the armouries were operating under licence issued by the Ministry of Defence.
Avant Garde Maritime Services is operational as of today – doing business as usual. "The CID is currently conducting an investigation to determine if the company's permit to maintain a floating armoury was obtained legally," ASP Gunasekara said.
Arms dealing is a lucrative business. Therefore, the police are also investigating the accountability for the weapons. "However, since the company has a permit, there is nothing to stop the company from continuing operations at the site," Gunasekara said.
(Sunday Observer)
Latest Headlines in Sri Lanka