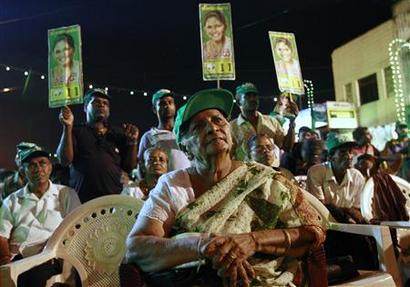 COLOMBO (Reuters) – Sri Lanka's opposition on Monday vowed to deny the ruling coalition a two-thirds majority at this week's parliamentary election, saying it would give an already powerful president too free a hand to rule.
President Mahinda Rajapaksa, fresh from a landslide re-election in January, has said he expects his United Peoples Freedom Alliance (UPFA) to get two-thirds of the 225-seat legislature at Thursday's polls.
That would give him the votes to change the constitution to his liking, a situation which produced the 1978 charter under former President J.R. Jayawardene that many view as flawed in terms of social equality and distribution of powers.
Rajapaksa's alliance looks assured of victory, riding high on momentum from his win in January, his defeat of the Tamil Tiger separatists in May last year and an economy resurgent since the end of the 25-year civil war.
On Monday, the central bank forecast 2010 economic growth of 6.5 percent, rebounding sharply from an eight-year low of 3.5 percent in 2009. Rajapaksa says economic revival is central to his plans for reconciling a country divided by ethnic strife and inequity.
Rajapaksa, like Jayawardene, has not said which changes he plans to enact, but the opposition warned he would show more of the autocratic streak they say he has displayed since he first came to power in 2005.
"It's not healthy for the country and will be a deadly attack on democracy to have the executive powers and two-thirds in parliament with one party. They will abuse the extensive powers," said Vijitha Herath, secretary for the Democratic National Alliance (DNA).
The DNA, the second largest opposition group, is led by the Marxist Janatha Vimukthi Peramuna (JVP) party. It includes retired General Sarath Fonseka, who lost his presidential bid against Rajapaksa in January and is now in jail.
OPPOSITION BACKED GENERAL IN PRESIDENTIAL RACE
The opposition rallied behind Fonseka, who led the army to victory over the Tamil Tiger rebels in a 25-year war but quit his post to challenge Rajapaksa.
But Fonseka got 40 percent to Rajapaksa's 58, and the military then arrested him and charged him in a court-martial for politicking while in uniform. He is still running for parliament, despite being in military custody.
The United National Party (UNP), by far the largest opposition party, still supports Fonseka but is running its campaign separately. General Secretary Tissa Attanayake said his party would get enough votes to block Rajapaksa's coalition.
"If the government gets the same results as the presidential election, they cannot get two-thirds," he said.
"They're just saying that to keep election momentum going. They know they have not addressed the peoples' issues such as the cost of living and democracy."
The campaign has been subdued compared to the presidential one both in terms of violence and tone. But gunmen sprayed bullets at campaigners on Monday, killing a 24-year old man in the first fatality of the current contest, police said.
The opposition, Western governments and rights groups have accused Rajapaksa's government of violating human rights, intimidation and failing to prosecute attacks on journalists and political opponents.
The government denies wrongdoing and says the opposition is trying to curry favor in Western capitals.
Reuters – By Ranga Sirilal – (Editing by Bryson Hull and Ron Popeski)