Sri Lanka parliament endorses office to trace wartime missing
Posted by Editor on August 12, 2016 - 7:22 am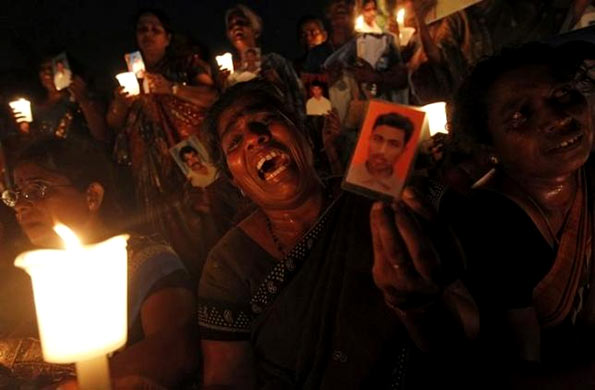 Sri Lanka's parliament on Thursday passed a law to establish an office to trace people who disappeared during a 26-year war and another insurrection amid protests by former leader Mahinda Rajapaksa's supporters in the chamber.
The law was passed without a vote. It will enable independent investigation of thousands of cases of missing people, measures to trace them and protection of their rights and interests and those of their relatives.
"We have brought this to correct the past mistakes in the history," Foreign Minister Mangala Samaraweera presenting the bill told the parliament.
Rajapaksa's supporters, who allege that the move was to prosecute the military, protested wearing black bands and shawls. Rajapaksa, now an opposition legislator, was out of the country on Thursday.
But Samaraweera said the government was trying to safeguard the military by looking into the allegations leveled against them and to maintain their reputation internationally.
The United Nations and rights groups have long urged justice for the families of those who disappeared during the war, including those who were alleged to have been secretly abducted by state-backed groups and paramilitary outfits.
Sri Lanka has already acknowledged that some 65,000 people were missing, mostly ethnic minority Tamils from its 26-year war with Tamil Tiger rebels and a separate Marxist insurrection.
President Maithripala Sirisena's coalition government has agreed to address past human rights violations through independent investigations and to implement a resolution by the United Nations Human Rights Council (UNHRC).
Former president Rajapaksa's government had rejected the U.N. recommendations, saying it wanted to address rights concerns without any international pressure. Rajapaksa lost power in January 2015.
M.A. Sumanthiran, an opposition legislator from the main Tamil party said the new law was the "first baby step" in the process of reconciliation.
"There cannot be a reconciliation without the ascertainment of truth and in this process the most important issue is the missing person, persons who have been made to disappear during the course of a protracted war in this country," he said.
The office of missing persons will trace those disappeared during the war for an independent Tamil state in the north and east of the island of Sri Lanka and an armed revolt by a radical Marxist group against the government in 1987-89.
(Reuters)
Latest Headlines in Sri Lanka