Sri Lanka PM Wickremesinghe Challenges Rajapaksa To Topple Government
Posted by Editor on January 3, 2017 - 8:11 am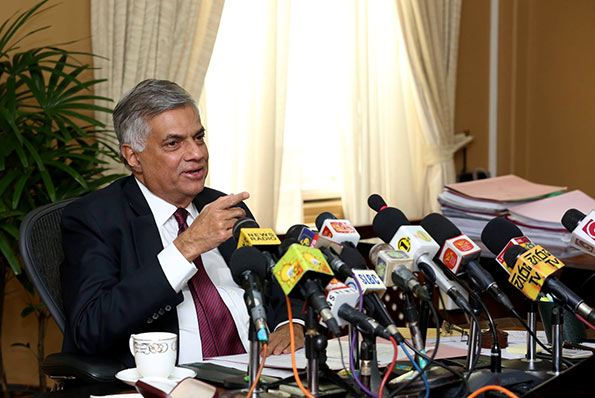 Sri Lankan Prime Minister Ranil Wickremesinghe yesterday (02) challenged Mahinda Rajapaksa to topple the current government, days after the former president expressed his intent to make a political comeback by bringing down the government this year.
"I will be going next week to Switzerland for one week giving Mahinda time to bring the government down," Mr Wickremesinghe told reporters in Colombo.
Mr Rajapaksa last week had warned that the unity government headed by the President Maithripala Sirisena and Premier Wickremesinghe could be toppled in 2017 through a roll of the head count in the national parliament.
Mr Wickremesinghe said that the government from today was launching its development drive with opening up factories and announcing its new development strategies.
Initially, an agreement is to be finalised with China for setting up of a special economic zone (SEZ) in Hambantota, deep southern district.
"We have signed the frame work agreement and finished. Now we are doing the concessionary agreement. It will be signed soon. Both sides are now arguing about the tax concessions," Mr Wickremesinghe said.
"On the Hambantota port we will get 1 billion (dollars) , the whole loan can be written off," he said.
Mr Rajapaksa leads the local protests to the move to lease the port's 80 per cent stake to China for a 1.3 billion US dollars settlement.
He said he was not opposed to the setting up of the industrial park but opposes the move to give 15,000 acres of lands of the locals to the Chinese.
(Source: NDTV)
Latest Headlines in Sri Lanka