Sri Lanka: Protection of Human Right enshrined in the National Action Plan
Posted by Editor on March 1, 2011 - 9:26 am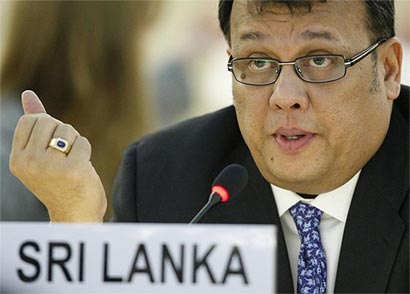 Minister Samarasinghe briefs the16th UNHRC Sessions
Sri Lankan Government has taken considerable action to facilitate the restoration of normal lives of the returning IDPs in the northern province of the country..
Sri Lankan Minister Mahinda Samarasinghe who is in-charge of the subject Human Right issues in the Cabinet has said that they had now begun to reap the dividends of peace demonstrated by the large number of development programs to enable the economic uplift of the people.
Minister Samarasinghe who is the Special Envoy of the President and Head of the Sri Lanka delegation to Geneva, addressing the 16th Session of UN Human Rights Council elaborated on the comprehensive steps taken by the Government to restore normality in post war Sri Lanka also said the poverty rate which was 15.2 in 2006 during the conflict was halved and stood at 7.6 in 2009, after the end of the conflict.
"Humanitarian operations conducted during the final stages of the war, focused on ensuring the safety and security of all civilians and on their rescue from the bondage of terrorism." The minister said
Expectedly the State, complemented by bilateral partners, multilateral agencies and international and local non-governmental organizations, began delivering on its responsibility of caring for approximately 300,000 displaced persons, he said.
The post conflict era made the government to face the challenges, firstly, of catering to the needs of Internally Displaced Persons (IDPs) and thereafter returning them to their homes and reintegrating them into society.
"Only a total of 12,000 IDPs remain in three welfare villages functioning in Vavuniya and Jaffna, at present" Mr Samarasinghe said.
The minister said that they would be resettled in their places of origin no sooner the on-going demining operations were completed.
Sri Lanka's steadfast commitment to the further promotion and protection of human rights is enshrined in the proposed National Action Plan. The process of formulating this Plan, which prescribes progressive benchmarks to be achieved during a five-year period, is nearing completion, with its implementation to commence in the near future.
"It is our expectation that the holistic approach we envisage in this Plan encompassing the promotion and protection of all rights, will also supplement the ongoing post-conflict reconciliation process."
The methodology that was adopted in formulating the Plan is significant in that, it is based on a participatory approach, which included civil society organizations as well.
Source: Government News Portal
Latest Headlines in Sri Lanka