Sri Lanka reconciliation panel 'holds promise:' Hillary Clinton
Posted by Editor on May 29, 2010 - 2:21 am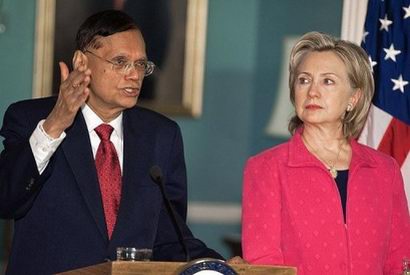 WASHINGTON: US Secretary of State Hillary Clinton said Friday the Sri Lankan post-war reconciliation panel "holds promise," hoping it will have a broad mandate and resources to pursue claims of wartime atrocities.
"I think this commission holds promise and we hope and expect that it will fulfill that promise," Clinton said during a press briefing with new Sri Lankan foreign minister G L Peiris.
"We expect it will be given a broad enough mandate with the resources necessary to be able to follow the trail of any evidence presented," the chief US diplomat said.
She said it is also important that the panel's members be perceived as "independent, impartial and competent," adding the minister assured her that its members would be.
"We expect this commission will reflect the desires and the needs of the citiziens of Sri Lanka," who were the main victims during the four-decade long civil war, she said.
The two also talked of the continuing role of the United Nations, which is to have an "independent, oversight role," she said.
The United Nations estimates that up to 100,000 people died in Sri Lanka's Tamil separatist conflict after the Tiger rebels first emerged in 1972.
Latest Headlines in Sri Lanka