Sri Lanka Requested to Establish Trade Office in the Strategic Port of Gwadar
Posted by Editor on April 27, 2014 - 5:12 pm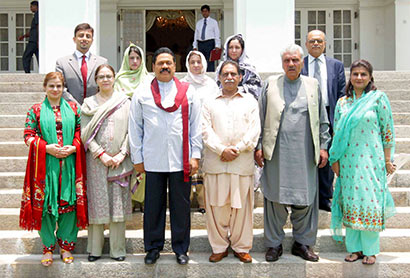 The Speaker of the Provincial Assembly of Balochistan, Pakistan, Mr. Mir Jan Muhammad Khan Jamali, along with a group of provincial assembly members, called on President Mahinda Rajapaksa at Temple Trees this morning.
At the meeting, Mr. Jamali requested Sri Lanka to establish a trade office in the strategic Port of Gwardar, which is located in Balochistan. The port will serve as a gateway to the strategically significant Strait of Hurmoz, which has been described as the world's most important oil choke point
with 16 million barrels of crude oil transiting every single day. The port is a part of a larger effort by Pakistan to establish a Pakistan-China economic corridor.
President Rajapaksa also briefed the visiting provincial members of the significance of the Hambantota Port, which revives the historic silk route and is also strategically located just 10 nautical miles away from the world's busiest east-west shipping lane.
In addition to collaboration in the shipping sector, Mr. Jamali also requested President Rajapaksa for assistance in the education sector to train math, science and English teachers in his Province. While expressing how thrilled they were to see Sri Lanka win the T20 Cricket World Cup this year, the provincial members appreciated great friendship with Sri Lanka.
"Even though we're in two different countries, our hearts are together," Speaker Jamali told President Rajapaksa adding that he wanted to expose the members to "countries which are very brotherly and have mutual respect."
Minister of External Affairs Prof. G.L. Peiris, Secretary to the President Mr. Lalith Weeratunga and Secretary of the Ministry of External Affairs Mrs. Kshenuka Senewiratne were present for the meeting.
(President Media)
Latest Headlines in Sri Lanka