Sri Lanka rupee hovers near 8-month low on importer dollar-buying
Posted by Editor on July 2, 2013 - 2:46 pm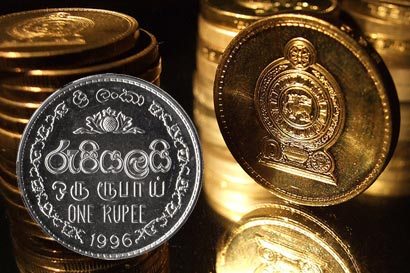 COLOMBO, July 2 (Reuters) – The Sri Lankan rupee extended falls early on Tuesday to trade around its near eight-month lows on importer demand for the greenback, with concerns over further foreign outflow from government securities also hurting the currency, dealers said.
The currency was quoted at 130.70/80 per dollar at 0505 GMT, dealers said, a level last seen on Nov. 9, 2012. It lost 0.15 percent on Monday, extending the year-to-date decline to 2.33 percent. The rupee fell 1.24 percent last week and 3.12 percent in June, mainly as foreign investors pulled out of Sri Lankan treasury bonds due to a rise in the U.S. treasury yields following the Federal Reserve's plan to trim its stimulus programme. "An oil import bill of around $4 million put the pressure on the rupee.
We don't see foreign investors pulling out of bonds aggressively," a currency dealer said. The central bank had not been selling dollars despite demand for the greenback in the market, another dealer said. The central bank, which usually intervenes in the market, said last week it will maintain flexibility in the rupee exchange rate despite the currency's weakening trend. Some dealers said the currency would not depreciate sharply as the central bank has mopped up the local currency in the market.
But the depreciation would discourage foreign investors from selling the rupee-denominated bonds, they added. Foreign investors, who hold a net $3.79 billion in Sri Lankan government securities, have been exiting gradually, central bank data showed on Friday, exerting pressure on the rupee. Dollar assets have become a big lure for investors as the Fed prepares to dial down its massive bond-buying programme, triggering a huge selloff in emerging market bonds and currencies in the past week.
Sri Lanka's main stock index was up 0.38 percent, or 23.57 points, at 6154.56 at 0530 GMT. "We have seen on and off strategic foreign buying in thin volume," said a stock broker who declined to be named. Stockbrokers said investors were concerned about the rupee's fall amid a possible further pullout by offshore investors from equities. The bourse saw a net foreign outflow of 1.03 billion rupees ($7.90 million) last week.
However, on Monday, foreign investors were net buyers of 160.9 million rupees in shares, extending the year-to-date net foreign inflow to 15.34 billion rupees. Monday's turnover was 561.8 million rupees, well below this year's daily average of around 1 billion.
($1 = 130.4000 Sri Lanka rupees)
Reuters
Latest Headlines in Sri Lanka