Sri Lanka seeks $40 million for port project
Posted by Editor on August 24, 2011 - 11:31 am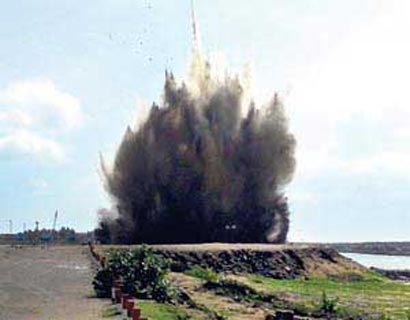 Sri Lanka's port authority on Tuesday said it has asked China for $40 million loan to demolish a massive seabed rock obstructing the entrance of its new $1.4 billion Hambantota port, due to start commercial operations this year.
The island nation launched the port in August 2010 with an initial target of handling 2,500 ships annually, as a cornerstone of a $6 billion drive to rebuild infrastructure that was neglected during a 25-year civil war.
But large ships are yet to call on the port and the country's main opposition United National Party (UNP) has pointed to the rock as a sign of government mismanagement.
Although the port is in President Mahinda Rajapaksa's home district in southern Sri Lanka, along the ancient "Silk Route" trading path, the rival UNP first proposed it.
"This rock was identified before we started the port construction," Sri Lanka Ports Authority Chairman Priyath Wickrama told Reuters. "We need just below $40 million to blast it. We have requested the amount from China."
Sri Lanka is banking on the port to help fuel growth targets of 8-9 percent in its $50 billion economy.
It has increasingly been relying on China, Russia, India and to a lesser degree, Brazil, for the financing and expertise required for its post-war rebuilding plans.
Beijing on commercial terms loaned a combined $1.24 billion to build the port and a 4 million metric tonne fuel bunkering facility, all of it built by Chinese engineers — much to the chagrin of neighbouring India.
Hambantota is about 2km from one of the world's biggest east-west shipping lanes, and is bidding to host the 2018 Commonwealth Games. The government is building Sri Lanka's second international airport there, and a master-planned city.
"Normally ships don't call at once. They need time to study business opportunities," Wickrama said. "We have to develop secondary facilities at the port and once we have them along with bunkering facilities, we can get ships to Hambantota."
In June, Wickrama said the ports authority had secured around $1 billion in investment into port facilities, including warehousing.
The fuel bunkering terminal is expected to start operations next month, four months behind schedule.
(Source: Reuters) / DM Online
Latest Headlines in Sri Lanka