Sri Lanka seeks more investments from Saudi Arabia
Posted by Editor on May 27, 2011 - 10:05 am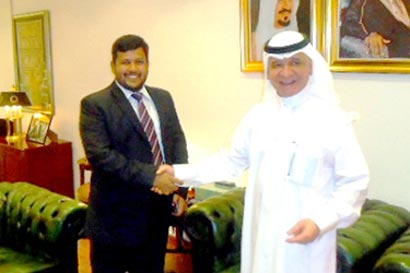 "Although we have a considerable amount of bilateral trade, I believe that there is huge potential to enhance it by further diversifying our trade baskets" said  Rishad Bathiudeen, Minister of Industry and Commerce, Sri Lanka at the bilateral meeting with the Saudi Minister of Commerce and Industry His Excellency Abdullah Zainal Ali Reza recently in Jeddah.
"The Kingdom of Saudi Arabia and Sri Lanka have been enjoying a very cordial relationship for many decades. This opens vast opportunities to further consolidate our bilateral cooperation " Minister Bathiudeen said, adding "Sri Lanka has now emerged as a very peaceful country in the region and is now stepping into a new era of socio-economic development under the able leadership of HE Mahinda Rajapaksa, President of Sri Lanka."
The bilateral trade between Kingdom of Saudi Arabia and Sri Lanka has passed US $ 248 million mark. Sri Lanka's total exports to Saudi Arabia in 2010 was US $ 43.8 while imports from Saudi Arabia was US $ 202.8 Mn making the two way trade volume at US $ 246 million. Saudi Arabia is one of the important trading partners of Sri Lanka among the Gulf countries.
Apart from Tea, Sri Lanka's export composition includes fruits and nuts, articles of apparel and clothing accessories, rubber and related products, vegetables, paper and paper board, miscellaneous edible preparations, live  plants and bulbs,  cut flowers  Minister Bathiudeen emphasised on the importance of expediting the implementation of the MOU by estalishing the proposed joint commission between Sri Lanka and Saudi Arabia so that a strong platform is created to enhance and strengthen the existing bilateral relations between the two countries,
Speaking of the new investment arenas in Sri Lanka,, Minister Bathiudeen pointed out that investment partnership with Saudi Investors  in the field of agriculture would be another important aspect in strengthening the mutual trade and economic cooperation, as suitable lands are now available especially in the North and Eastern provinces of Sri Lanka. This can include inland freshwater fishing and aquaculture. Sri Lanka is ready to provide the necessary infrastructure including land to Saudi investors based on a modality of mutual benefit.
Minister Bathiudeen extended Sri Lanka's invitation to Saudi Arabia for the 2012 Mega Export Exhibition adding that exchange of bilateral delegations from both countries in all levels is important to boost bilateral cooperation. In response, the Saudi Minister assured his fullest support in encouraging a high profile delegation's visit to the Mega Export show to be held in early 2012, called "Sri Lanka Expo 2012."
Saudi Minister of Commerce and Industry His Excellency Abdullah Zainal Ali Reza apprised Minister Bathiudeen that both countries now have better possibilities to enhance trade in the present peaceful environment in Sri Lanka.
Source: Government News Portal
Latest Headlines in Sri Lanka