Sri Lanka takes 'giant step' toward unity with Tamil anthem
Posted by Editor on February 5, 2016 - 7:04 am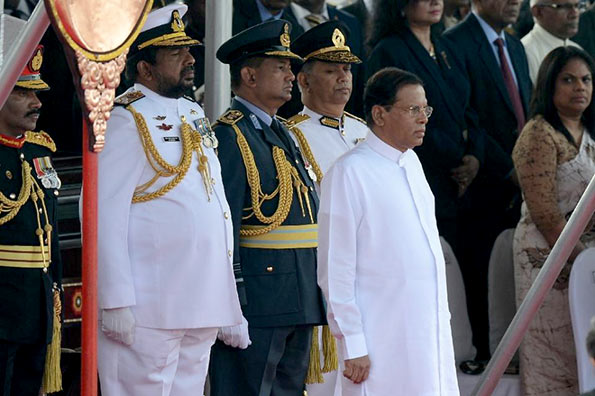 Sri Lanka's war-battered minority Tamils welcomed the national anthem being sung in their language at Independence Day celebrations on Thursday for the first time in 67 years as a "giant step" towards reconciliation.
The Tamil National Alliance (TNA) said the gesture, which saw schoolchildren sing Sri Lanka Matha ("Mother Sri Lanka") in Tamil at a military parade, signalled recognition the community were equal citizens.
"It may be a small symbolic thing, but it is a very important step telling the Tamil-speaking people that they are equal members of this country and the state recognises that," M. A. Sumanthiran of the TNA, the island's main opposition party, told AFP.
"It is in fact, a giant step from that perspective," Sumanthiran said, adding that he hoped more serious issues could also be resolved in the same spirit.
Every year since 1949, the first anniversary of independence from Britain, the anthem had been sung at the main national celebration only in Sinhala, spoken by the island's ethnic Sinhalese majority.
But on Thursday pupils sang in both languages at a televised military parade that also saw army tanks, gunships and fighter jets travel down Colombo's seafront promenade in front of thousands of flag-waving spectators.
The Tamils bore the brunt of the island's 37-year civil war that ended in May 2009 and claimed at least 100,000 lives.
But the election of reconciliation-minded President Maithripala Sirisena in January last year has helped to mend relations, and last year Tamils officially took part in national day celebrations for the first time.
The previous government of strongman leader Mahinda Rajapakse had banned the singing of the national anthem in Tamil at official ceremonies.
In a speech, Sirisena reiterated his pledge to allow an investigation into wartime human rights abuses following a UN Human Rights Council resolution late last year.
"By implementing the resolution we safeguard the dignity of the nation, the people and the armed forces… and it helps us to be accepted as a respected member of the international community," the president said.
Sirisena's new government has pledged to set up special war crimes courts this year to investigate allegations that troops killed at least 40,000 Tamil civilians in the final months of the conflict that ended in 2009.
But opposition politicians, who deny war crimes were ever committed by a government-backed military, say the UN-mandated probe is intrusive and represents a threat to sovereignty.
UN rights chief Zeid Ra'ad Al Hussein is expected to travel to Sri Lanka on a four-day visit from Saturday, with his council due to review the country's progress in implementing the September resolution.
Tamils account for just over 11 percent of the island's population of about 21 million and are demanding greater autonomy in areas where they are concentrated.
(AFP)
Latest Headlines in Sri Lanka