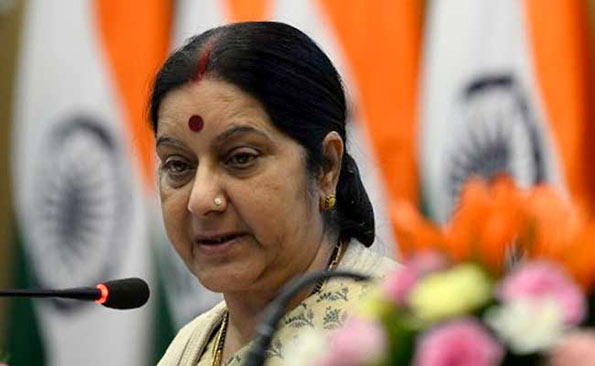 New Delhi: External Affairs Minister Sushma Swaraj on Friday will leave on a two-day visit to Sri Lanka during which she will attend a meeting of the joint commission of the two countries.
"External Affairs Minister Sushma Swaraj will be visiting Sri Lanka on February 5-6 for the ninth session of the India-Sri Lanka Joint Commission," external affairs ministry spokesman Vikas Swarup said at a media briefing here on Thursday.
"The meeting of the joint commission, co-chaired by the minister of external affairs of India and the minister of foreign affairs of Sri Lanka, will be held on February 5 in Colombo," he said.
The India-Sri Lanka Joint Commission was established in 1992 as an effective mechanism to address matters pertaining to bilateral cooperation.
Swarup said the discussions in Friday's meeting will cover the entire gamut of the relationship between the two countries.
Included in these would be economic cooperation, trade, power and energy, technical and maritime cooperation, social, cultural and educational matters, science and technology, defence cooperation, health, civil aviation, tourism and people-to-people contacts.
"During her visit, the external affairs minister will call on President Maithripala Sirisena, Prime Minister Ranil Wickeremesinghe, and former president Chandrika Kumaratunga," he said.
Sushmna Swaraj will also inaugurate a "Rise of Digital India" exhibition on February 6 as part of "Sangam – Festival of India in Sri Lanka 2015-16".
"This exhibition will showcase the phenomenal rise of the computing sector and digital technologies in India which is positively impacting the everyday lives of people," Swarup said.
Replying to questions, the spokesman said that the re-framing of the Sri Lankan constitution might come up during the discussions.
The issue of Indian fishermen will also be taken up.
(IANS)