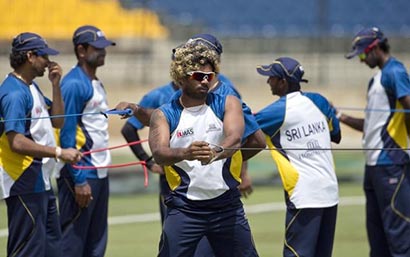 Sri Lankan cricketer Lasith Malinga, center, exercises during a practice session against Zimbabwe ahead of the ICC Twenty20 Cricket World Cup, in Hambantota, Sri Lanka, on Sept. 17, 2012.
Cricket / Mahela Jayawardene believes that any team can go on to win the tournament
The only format in cricket that gives rank outsiders a shot at the cup, the ICC World Twenty20, begins at the Mahinda Rajapaksa International stadium here on Tuesday with host Sri Lanka taking on the lowest-ranked Zimbabwe.
But, rankings mean nothing in the format, India captain Mahendra Singh Dhoni has said.
Concurring with him, Sri Lanka captain Mahela Jayawardene said on Monday that when Australia can touch as low a ranking as number 10 (now number 9), it only goes to show that anyone can win the cup.
"We played them (Zimbabwe) in the last World Cup too. They can be competitive. We cannot be complacent. We have got a game plan and we need to execute that," Jayawardene said.
Consistency, then, is the key to success in the tournament that lasts about three weeks. One off-game is fine in the super eight round-robin phase of the tournament; not later, in the knockout stages. Each group has a dark horse, lurking to burst on the scene and stake its claim to the rightful place.
When it was brought to his notice that the host have never won the T20 Cup, Jayawardene quipped: "Maybe it is our chance to turn it around and make it a first. That's how we look at it."
Jayawardene feels the tag 'chokers' is unfair to a team that made the finals of the ODI World Cup and which has done reasonably well. "I would rather be in the finals than get out in the first round," he said
In the last match played at this venue, a day-night ODI between Sri Lanka and India in July, India was bowled out for 138 in 34 overs.
Asked about the venue, Jayawardene said it was tough for Sri Lanka when it played for the first time (during the 2011 ODI World Cup). "But I think it has settled down a bit. The wind is a bit of a factor…You need to adjust to that," he said.
The teams (from):
Sri Lanka: M. Jayawardene (captain), T.M. Dilshan, K. Sangakkara, A. Mathews, D. Chandimal, S. Eranga, R. Herath, N. Kulasekara, L. Malinga, A. Mendis, J. Mendis, D. Munaweera, A. Dananjaya, T. Perera and L. Thirimanne.
Zimbabwe: B. Taylor (captain), E. Chigumbura, G. Cremer, C. Ervine, K. Jarvis, H. Masakadza, S. Mastikenyeri, C. Mpofu, F. Mutizwa, R. Muzhange, R. Price, V. Sibanda, P. Utseya, B. Vitori and M. Waller.
Match starts at 7.30 p.m.
Source: AP / The Hindu