Anti Rajapakse protests in India
Posted by Editor on September 18, 2012 - 10:10 am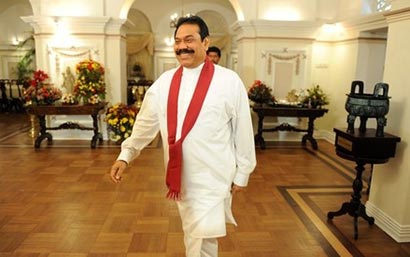 CHENNAI/ SALEM: The visit of Sri Lankan president Mahinda Rajapaksa to Indian from September 21 is likely to be a stormy affair. On Monday, a 26-year-old auto driver from Salem attempted self-immolation over the visit while MDMK leader Vaiko, with hundreds of cadres in tow, left for Sanchi in Madhya Pradesh to stage a black flag demonstration when the Lankan leader arrives for a function organized by the Shivraj Singh Chouhan government on September 21.
T Vijay Raj, an auto driver from Salem, set himself afire near the old bus stand here early Monday morning to protest Rajapaksa's visit. Police rushed him to the Mohan Kumaramangalam Government Hospital here with 90% burns. A suicide note said that Rajapaksa had killed innocent Tamils living in Sri Lanka and blamed the Indian government for aiding him. The Lankan president should be allowed to visit India only after the Tamils of Sri Lanka get full protection and independence, the note said.
Raj's father Thangavel said the former was the breadwinner of family that included his mother, Perumayee, and sister, Kokila. "I have four sons and one daughter. Raj is the fourth son. The first three sons got married and are living separately. Raj lives with us and looks after us. We depend on him and did not expect him to act in such an irresponsible manner," Thangavel said.
Rajapaksa has been invited by the leader of the opposition in the Lok Sabha Sushma Swaraj to Sanchi to lay the foundation stone for a centre for Buddhist studies. The function coincides with celebrations to mark 2,600 years of Buddha's enlightenment. Sanchi falls under Sushma's constituency Vidisha.
The tragedy of Tamils in Sri Lanka is an emotive issue that fringe parties in Tamil Nadu periodically use to rally pro-Eelam sentiment. It is likely that opposition to Rajapaksa will gain strength as the date of the visit nears.
Ahead of leaving for Sanchi, Vaiko addressed the media in Chennai and said it was unpardonable and unjustified that "a killer and murderer of Tamils" was invited to visit India. He rejected an appeal from MP CM Chouhan, who urged Vaiko to call off the protest as the Sanchi function was "an occasion to spread love, peace and kindness". In Bhopal, Chouhan claimed that the meet aimed to strengthen India's relations with its neighbours.
However, Vaiko claimed that if Atal Behari Vajpayee was active he would not have let the MP government invite Rajapaksa. First the UPA betrayed us (Tamils) and now the BJP too, said Vaiko, whose party, MDMK, was once part of the NDA and had representatives in the Vajpayee government.
Meanwhile, the Union government said it had no role in this matter since Rajapaksa was visiting India as a guest of the Madhya Pradesh government. "Mahinda Rajapaksa is on an official visit and the Madhya Pradesh government has invited him. We cannot do anything," Union minister of state in PMO, V Narayanasamy said in Coimbatore.
Latest Headlines in Sri Lanka