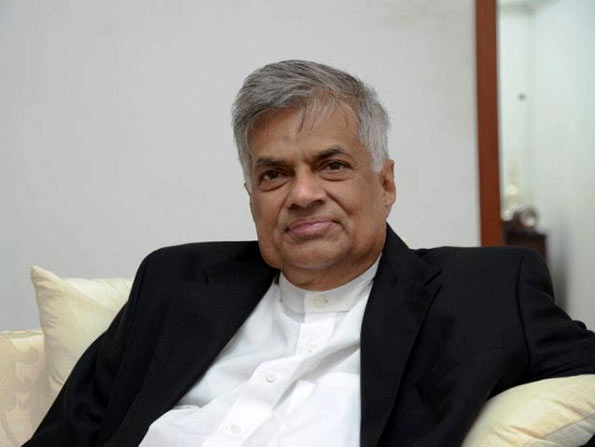 Sri Lanka will allow future submarine visits by China provided they are not too frequent, Prime Minister Ranil Wickremesinghe said in remarks published on Sunday.
"We have put out the criterion for visits by naval ships. Under that, ships including submarines from all countries can visit Sri Lanka," the prime minister said in an interview with The Straits Times.
"As far as we are concerned, if it is a friendly visit, we will inform the neighbouring countries and we will spread out the (frequency of the) visits," he said.
"The problem with the last visit by a Chinese submarine was that India claims it was not informed. So far, from what we found out, that seems to be correct."
The 66-year-old Wickremesinghe returned to power earlier this year as prime minister of a national unity government led by President Maithripala Sirisena, who is from the rival Sri Lanka Freedom Party.
Wickremesinghe, who had led the United National Party since 1994, left for Colombo on Saturday after a four-day visit here that included meetings with, among others, Prime Minister Lee Hsien Loong.
Former president Mahinda Rajapaksa had angered New Delhi by moving steadily closer to China, and last year's submarine halts by the Chinese Navy were seen as a tipping point in the Delhi-Colombo relationship.
Wickremesinghe suggested that some of the mistrust could have been avoided if India had been kept in the picture about the visit by the Chinese submarine, which was en route to deployment in the Gulf of Aden.
"We have told India what our policies are. We have an agreement that neither nation will do anything to harm the security interests of the other country. Subject to that, we carry on with our work," he was quoted as saying.
"We have told India that China and we have a long relationship. Chinese economic investments are welcome in Sri Lanka.
"We did have some problems with China on infrastructure projects. (But) that's a bilateral issue between Sri Lanka and China. It doesn't involve India.
"We support India's entry into Security Council. That aside, we run our own domestic and foreign policy. Our economic policies are more open than India," Wickremesinghe told the Straits Times.
The Sri Lankan leader offered a cautious assessment of relations with New Delhi, saying "ties with India are improving".
He said the government's top priority now was national reconciliation. President Sirisena had called an all-party conference on the issue and the government was considering setting up a Missing Persons Office.
However, he indicated, allowing foreign judges to join Sri Lankan judges in special courts to try war crimes, as suggested by a UN human rights report, may be trickier.
The next priority was to restore the democratic institutions that, he said, had suffered under Rajapaksa.
This was one of the reasons why the government was pushing to end the executive presidency with a cabinet system of government.
(IANS)