Sri Lanka to continue having friendly policy towards China
Posted by Editor on October 10, 2015 - 9:39 am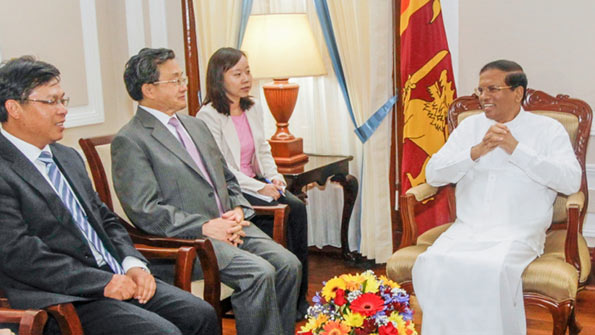 Sri Lanka will continue to pursue a friendly policy towards China and promote all kinds of cooperation between the two countries, Sri Lankan President Maithripala Sirisena has said.
In a meeting with visiting Chinese envoy and Chinese Vice Foreign Minister Liu Zhenmin on Thursday, Sirisena said his country was willing to make joint efforts with China to further strengthen friendly relations and also advance with the suspended mega China-funded port city project, Xinhua news agency reported.
The $1.4 billion Colombo Port City Project, funded by the China Communications Construction Company Limited (CCCC), was suspended by Sirisena's government in March after concerns were raised over some aspects of the project. The project began construction in September last year.
Liu said despite changes — both in regional and international situation and the political situation in Sri Lanka, China will adhere to the friendly policy between the two countries.
He hoped that Sri Lanka will make joint efforts with China for the development of bilateral relations.
Sri Lanka should see the 21st Century Maritime Silk Road, proposed by China, as an opportunity to promote cooperation and lift the ties between the two nations to a new high, Liu added.
(IANS)
Latest Headlines in Sri Lanka