Sri Lanka to face EU trade loss; ready to discuss
Posted by Editor on February 17, 2010 - 3:46 am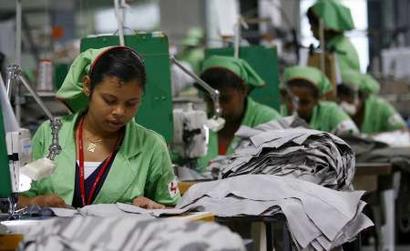 Reuters – By Shihar Aneez
Sri Lanka is prepared to face a European Union withdrawal of its preferential trade benefits that helped to boost the island nation's garment export to the region, a top official said on Tuesday.
The EU on Monday said it planned to withdraw preferential trade benefits to Sri Lanka because of concerns about the south Asian island's human rights record. [ID:nLDE61E1W0]
"We have been prepared for this for a long time," said Ajitth Nivard Cabraal, the central bank governor who is also an adviser to President Mahinda Rajapaksa's government on economic affairs. "We have to deal with this risk at some stage or another."
The European Commission, which oversees the 27-nation bloc's trade policy, said an investigation had revealed significant shortcomings in Sri Lanka's implementation of three U.N. human rights conventions linked to preferential trade tariffs.
Sri Lanka has come under pressure from Western nations over civilian deaths in the final phase of the 25-year war against Tamil Tigers last year, police violence, torture and delays in resettling Tamil refugees kept in camps after the conflict ended.
The trade benefits, worth about 100 million euros ($136 million) a year to Sri Lanka, will be withdrawn in six months' time unless EU concerns are addressed, the Commission said.
Cabraal said the government was ready to engage with the EU and discuss how the island nation could continue the facilities.
A foreign ministry statement said talks would be more productive if both sides acted with "sincerity" and avoided setting "unattainable targets". In 2008, the government said it would not allow EU investigators into the island nation. Sri Lanka benefits from concession in the EU's Generalised System of Preferences Plus (GSP+), an incentive scheme tied to the improvement of human rights and good governance.
CLOTHES MANUFACTURERS
Exporters to the EU, mainly clothes manufacturers, said the move would make their goods less competitive. "There will be a price increase to the customer," Rohan Masakorala, secretary general of the Joint Apparel Association Forum, told Reuters.
Around 60 percent of Sri Lanka's garments are sent to the EU. Those exports accounted for over 46 percent of total exports of $7.08 billion last year.
Analysts and economists said the withdrawal would have no impact on the stock exchange .CSE as major apparel firms are not listed. But low revenue from garment exports could increase the trade deficit and overshoot the fiscal deficit.
Analysts say the withdrawal could hit post-war economic optimism that helped propel the bourse to become one of the world's best performers with a 125 percent return last year.
"It will hit investor sentiment," Hussain Gani, associate director at Asia Securities said.
Economists said closure of some garment firms in the face of competition after the loss of trade may trigger job losses and compound hardships for poor women in rural areas. (Editing by Ron Popeski)
Latest Headlines in Sri Lanka