Sri Lanka to question British policy or British MPs personal vendettas
Posted by Editor on March 12, 2013 - 10:56 am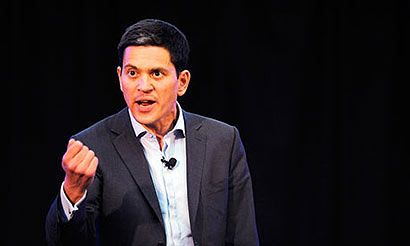 – By Shenali Waduge –
Does David Miliband speak and act on behalf of the UK Government? The best way to find that out is for Sri Lanka's External Affairs Minister to summon the UK High Commissioner in Sri Lanka and seek clarification. David Miliband and a host of other UK MPs are denigrating a democratic and sovereign nation using their office in a personal vendetta that revolves around courting Tamil constituents in the UK in order for them to win votes and possibly other favors but that is something UK will need to investigate on their own. That LTTE is proscribed in the UK has not stopped these UK MPs including David Miliband from attending events of LTTE and LTTE fronts and the UK needs to explain their actions given that fund raising and support for terrorist organizations is prohibited by UK law – unless it is only for paper purposes. Selfishness for political prospects cannot determine the existence of a terrorist organization – someone needs to clearly tell Miliband this and Sri Lanka's Foreign Minister must convey this to the UK Government.
2009 – "with UK elections on the horizon and many Tamils living in Labour constituencies with slim majorities, the government is paying particular attention to Sri Lanka, with Miliband recently remarking to Waite that he was spending 60% of his time at the moment on Sri Lanka." (Tim Waite is the Foreign Office team leader on Sri Lanka – quote is by Richard Mills, a political officer at the US embassy revealed by wikileaks. (http://www.guardian.co.uk/world/2010/dec/01/wikileaks-david-miliband-sri-lanka)
Given that Miliband has been so supportive of the Tamil cause upon his arrival on 29 April 2009 with French counterpart Bernard Kouchner and his concern to minimize civilian casualties, we would like to know why the LTTE did not listen to him and release the hundreds of thousands of Tamil civilians the LTTE were herding with them. If civilians were the concern of Miliband the Sri Lankan army ensured this by saving approximately 295,000 at the loss of over 5000 military lives? Where was the words of gratitude by Miliband or Kouchner or any of the other international players using "civilians" as a ground to push for a ceasefire? Miliband may like to recall that while he was in Sri Lanka the military rescued 114,000 Tamil civilians and brought them to safety! War on terror US/NATO style would have been to drop sorties and fire upon anything and everything that moved and there wouldn't have been 295,000 Tamil civilians had US/NATO been going after the LTTE. The number of bombs dropped in Libya was enough to take them back to the stone age it is revealed!
As for Miliband apart from his tears for the Tamil civilians did he give a penny of his personal funds to buy even a toffee for the children in the welfare camps that he visited? Concern for civilians does not have to be shown spending only State funds!
We would also like to know why no Foreign Ministers arrived in Sri Lanka to demand that the LTTE stop targeting innocent children and killing them? New born babies drinking milk were hacked to death in villages, children going to school were blown up in buses, student monks were cut to pieces one by one whilst the others watched. Why has the world's leaders been silent to these LTTE crimes?
Though all of the time we tend to point fingers at the US for their bullying ways we tend to forget that all of the world's ills in terms of divide and rule originated by the British. Perhaps the British remain in their imperial labyrinth forgetting the nations that they ruled are no longer within their scope though there are plenty of those ready to be subjects of the British with tail coats and all.
Miliband must explain his presence at the launch of the Global Tamil Forum on 24th February 2010 at the UK House of Commons whilst he was serving as UK Foreign Secretary despite protests by the GOSL. Miliband continues to speak on behalf of the GTF – http://www.youtube.com/watch?v=cOaxLvJ5aW0
The UK Government needs to also explain why UK Parliament is being used by a front organization that the UK Government has banned?
The Sri Lankan Government needs to know the rationale for the attendance of David Miliband sending a video message, whilst speakers like Siobhain McDonagh, MP Robert Halfon (holding posts in the All Party Parliamentary Group for Tamils), Theresa Villiers MP, Secretary of State for Northern Ireland, Nick Clegg UK Deputy PM and Leader of Liberal Democrat Party, Douglas Alexander Shadow Foreign Secretary, Ed Davey Secretary of State for Energy and Climate Change, Simon Hughes Liberal Democrat Deputy Leader, Kerry McCarthy Shadow Foreign and Commonwealth Office Minister, Baroness Warsi Senior Minister of State FCO, Ed Miliband Leader of Labour Party and brother of David Miliband all spoke at the 27 February 2013, Global Tamil Forum 3rd anniversary conference held at UK Parliament.
The GTF objective was to support an international independent investigation into war crimes and genocide against Tamils as well as a venue change for CHOGM in Sri Lanka.
Lame statements issued in defense of the UK MPs attending pro-LTTE events does not satisfy the public of Sri Lanka. Sri Lanka's Minister of External Affairs is bound by his duty towards the nation and not his personal whims and fancies and needs to summon the UK envoy and seek proper clarification. If UK bans LTTE and if Sri Lanka has informed that GTF/BTF and a host of other organizations are functioning in support of LTTE the UK Government must ensure that these events not only do not take place in the UK and no UK MPs are allowed to attend such in the UK either.
As for all these calls for "transparency" we would like to know why UK is giving a headache to Sir Chilcott who is unable to conclude his report on UK's misadventures in Iraq because these documents are being kept secret – so what does UK have to hide and so much for accountability and transparency!
As for the CHOGM if it is such a headache for political leaders to attend because they are worried of not securing votes from their constituencies please cancel the thing altogether. These events will anyway lead to another opportunity to enjoy the hospitality of Sri Lanka and then return to their nations to release statements that condemn our country.
Similar we must also know if Eric Solheim is Norways' mouthpiece, or whether Robert Blake is also speaking on behalf of the US Government because all these individuals appear to have strong ties to the LTTE and they are harming cordial relationships between Governments. As officers their Governments need to clearly draw the line on some of their actions.
It is the prerogative of countries to sing praises for terrorists and their supporters but our praises are for the armed forces that eliminated terrorism in Sri Lanka.
Latest Headlines in Sri Lanka