Sri Lanka to resume refinery on Friday with Oman light crude
Posted by Editor on May 23, 2013 - 8:33 am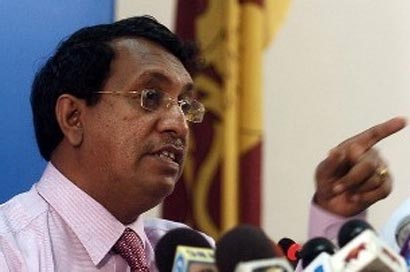 COLOMBO, (Reuters) – Sri Lanka's sole refinery, which was closed last week due to a delayed crude oil delivery, will resume operations in two days with an expected 1 million barrels of Omani crude, Oil Minister Anura Priyadarshana Yapa said.
The decades-old 50,000 barrels-per-day (bpd) Ceylon Petroleum Corporation (CPC) refinery, which is configured to run on Iranian crude, closed on Friday after a shipment failed to arrive on time.
The state-run refinery has faced closure from time to time as it has scrambled to fill a supply shortfall after shipments of Iranian oil were hit by Western sanctions.
"The refinery is still closed. It will be opened on May 24, with the expected 1 million barrel Oman crude parcel on that day," Yapa told reporters in Colombo on Wednesday. He did not name the company responsible for the delay, nor the seller of Omani crude.
"It is difficult to find the suitable crude for our refinery," he added.
The CPC has been having problems running the refinery at full capacity, because alternative crudes, such as Arabian Light, are unable to produce the proper yield.
Yapa said Sri Lanka cannot use Omani crude continuously due to a lower yield and thus the government has called tenders for other crudes.
"We have assessed the suitability of Nigeria light, Libya light and Abu Dhabi Murban light in the refinery. We have realised that Murban suits better than the others. So we have immediately decided to import Murban light," he said.
Sri Lanka cut imports of Iranian crude by 23 percent last year, following a 38 percent reduction in 2011, but it disagrees with the Western sanctions, saying they punish countries that depend on the oil.
BUYING IRAN CRUDE?
Tissa Attanayaka, a legislator in Sri Lanka's main opposition United National Party, on Tuesday said the government was buying Iranian crude from ships in international waters, evading U.S. sanctions.
"It has been a practice of Sri Lanka – purchasing Iranian crude in illegal ways as we are not allowed to purchase it directly from Iran," Attanayaka told reporters in Colombo, adding that the tanker expected on May 16 was a third-party shipment of Iranian crude.
The oil minister rejected the opposition's allegation and said Sri Lanka had not received a ship loaded with Iranian oil since the sanctions were imposed.
"This is a treacherous statement," Yapa said. "In the tenders, we clearly specify that we need non-Iranian light crude. I would like to clearly mention that there have been no ships of Iran crude brought to Sri Lanka after U.S. sanctions."
CPC officials have said the sanctions have defeated three attempts by Sri Lanka to get Iranian crude as CPC struggles to get shipping insurance and payment on the Iranian oil. (Reuters)
Latest Headlines in Sri Lanka