Sri Lanka to resume road development projects with China
Posted by Editor on March 30, 2015 - 8:34 am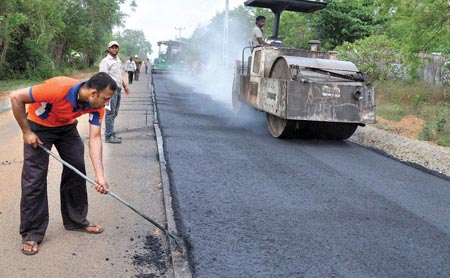 The Sri Lankan government has decided to recommence all the main and provincial road development projects in the island nation with China, a government official said on Sunday.
Highways, Higher Education and Investment Promotion Ministry Secretary Udaya Ranjith Seneviratne told Xinhua that the ministry had already made payments to the relevant Chinese contractors for the projects. Some Chinese companies had earlier decided to suspend some of the projects due to non-payment.
One of the projects to immediately recommence work is the extension of the Southern Expressway, Seneviratne said.
"We paid the Chinese companies 1 billion rupees last week so that they could continue with the projects without any hindrance. The government is committed to continue these road projects with China and we have informed the companies to accelerate their work so that they could finish soon," Seneviratne added.
He also said that the Sri Lankan government would continue to give road development projects to these Chinese companies as the government valued the development projects done by China in the past.
(Xinhua)
Latest Headlines in Sri Lanka