Sri Lanka urges US to focus on business, not just rights
Posted by Editor on May 26, 2010 - 3:47 am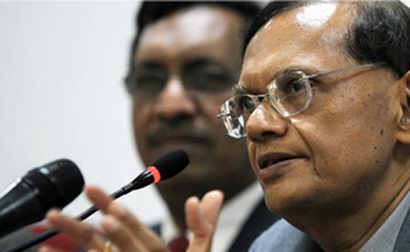 WASHINGTON (AFP) – Sri Lanka's new Foreign Minister G.L. Peiris on Tuesday urged Washington to seize business and other opportunities in post-war Sri Lanka rather than focus only on alleged human rights abuses there.
Visiting Washington after Sri Lankan President Mahinda Rajapakse won a resounding reelection victory in April, Peiris parried criticism from human rights activists and others as he began a week-long visit to push for closer ties.
A year after the end of the civil war, "the circumstances are propitious for a certain strengthening and deepening of the relationship between Sri Lanka and the United States," Sri Lanka's chief diplomat said.
"We are not in anyway resentful of the focus on human rights. That is understandable. We are not complaining about it," Peiris told a gathering hosted by the Center for Strategic and International Studies think tank.
"But we are making the point that the relationship should not be one dimensional. There are many other things that Sri Lanka and the United States can do together," he said.
Rajapakse has come under fire at home and abroad for allegedly violating human rights in the final military campaign against Tamil Tiger rebels and has been accused of suppressing dissent since his reelection.
Representatives from the International Crisis Group and Amnesty International aired some of the alleged abuses in a question-and-answer session with Peiris following his speech about post-election and post-war developments.
Business opportunities abound, according to Peiris, who was minister for international trade in the previous government.
"In particular, as we open up the country, as we rebuild the infrastructure, I think there is a great deal of scope for American companies to come in and participate fully in that exercise," he said.
Peiris talked of a new "mood of optimism" in Sri Lanka, adding the "whole country was coming alive" as foreign tourists begin arriving in large numbers and foreign investors eyed hotel construction.
Peiris said he met earlier Tuesday with US senators and congressmen and planned to hold more meetings with them over the next two days.
He is also to meet with US Secretary of State Hillary Clinton on Friday after she returns from east Asia.
Clinton's spokesman Philip Crowley last month urged Sri Lanka's new government to use its mandate to pursue a "healing process" as the Indian Ocean island recovers from decades of war.
Crowley said the government appeared to enjoy a "significant mandate" from the election.
Latest Headlines in Sri Lanka