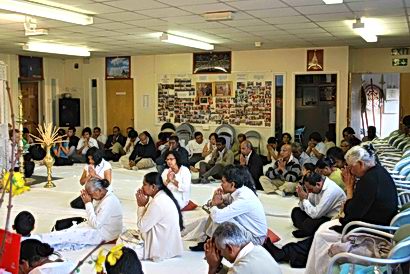 Onlanka News – By Janaka Alahapperuma
(Pix By: Birmingham Buddhist Maha Vihara Media Unit)
A special religious ceremony was organised by the Sri Lankan community in the Midlands at the Birmingham Buddhist Maha Vihara, Hockley, Birmingham in memory of the valiant heroes of the Sri Lanka Armed Forces who had sacrificed their valuable lives for the sovereignty of the country. Large number of patriotic Sri Lankans and reasonable number of devotees belonging to different nationalities gathered at the Vihara to pay tribute to the fallen heroes.
The religious programme was conducted by the Maha Sangha headed by Venerable Witharandeniye Kassapa Nayaka Thero, Head of the Vihara. Delivering the Anusasana, Venerable Nayaka Thero paid a tribute to all the valiant men and women in the forces who led the nation to great heights with the defeat of separatism and terrorism. Nayaka Thero also said that it was a noble mission of liberating the country from the clutched of brutal terrorism ending 30 years of war and further emphasized their courage, determination and sacrifice in the defence of the nation.
This remembrance pooja was conducted mainly for bestow merits on the fallen heroes to mark the Ranaviru Week announced by the government in conjunction with the first anniversary of defending the sovereignty of the country. This occasion also used to invoke blessing on the country, the President and the people of Sri Lanka.