Sri Lanka vote raises hopes in Washington
Posted by Editor on January 18, 2010 - 4:10 am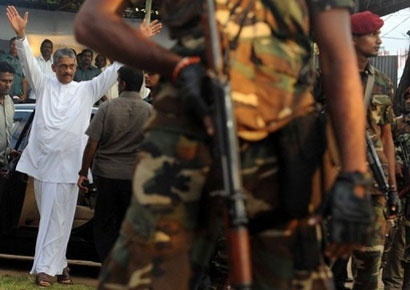 AFP – by Shaun Tandon Shaun Tandon
WASHINGTON (AFP) – Sri Lanka's upcoming election is raising hopes in the United States for better relations after a chilly spell if the island turns the page on a bloody war that brought international opprobrium.
The January 26 election comes months after troops killed the top leadership of the Tamil Tigers, ending their ruthless decades-long separatist campaign but also triggering accusations of human rights abuses.
Ironically, the post-war election could be decided by voters from the Tamil minority as the Sinhalese majority splits between two candidates — incumbent Mahinda Rajapakse, who ordered the final military push, and former general Sarath Fonseka, who executed it but more recently has pledged reconciliation. Related article: Sri Lanka's Tamils wary of election spotlight
Asked if the election could change relations with Washington, a senior US official said: "It already has changed the dynamic in a positive way."
"A lot of the progress we've seen in the last two months or so is contributable at least in part to the election," the official told AFP on condition of anonymity.
Sri Lanka has recently moved on key international concerns including releasing thousands of Tamil civilians who had been held for months in rudimentary displacement camps.
The US official was upbeat about pledges made by Fonseka including greater media freedom and independent commissions to oversee the judiciary and other key institutions.
"I'm hesitant to make predictions about the future, because candidates promise all sorts of things and then they don't deliver, but certainly General Fonseka has been making some good pronunciations," he said.
But the United States has strongly denied allegations made by one ruling party legislator that it is funding the opposition.
Some Sri Lanka watchers in the West — and especially the Tamil diaspora, which has been instrumental in pressing for a harder line on Sri Lanka — are deeply ambivalent about Fonseka.
Fonseka, who holds a US green card, escaped questioning by US authorities about possible war crimes during a November visit after Sri Lanka summoned the US ambassador to protest.
"Fonseka would not be the US's first choice as president but if he wins it would at least open the door for a better US relationship," said Robert Oberst, a Sri Lanka expert at Nebraska Wesleyan University.
"His whole association with the military is what tarnishes him in part. If there were war crimes committed, he obviously knew about them and was involved," Oberst said.
Sri Lanka increasingly distanced itself from the West as it came under fire for its human rights record. It has built ties with China and Iran and last year hosted Myanmar's reclusive military leader Than Shwe.
But Asoka Bandarage, an associate professor at Georgetown University and author of the book, "The Separatist Conflict in Sri Lanka," doubted the former British colony would turn to Western rivals except out of economic necessity.
"I don't think that even ardent Sinhala nationalists would want Sri Lanka cut off from Western influence and that longstanding connection," she said.
The US official also believed Sri Lanka saw good US ties as a "long-term interest," noting that Western nations were the key market for its exports such as garments and tea.
Tamil diaspora activists have also seized on the economic dimension, launching a campaign urging a Western boycott of the island's products.
In one racy video under the slogan "No Blood for Panties," a muscle-ripped man undresses an impassioned young woman only to lose the mood when he discovers her underwear is made in Sri Lanka.
"There is really no fundamental choice between General Fonseka and Rajapakse because both were instrumental in launching this military offensive against the Tamil community," said Tasha Manoranjan, whose group, People for Equality and Relief in Sri Lanka, is running the boycott campaign.
"I think the day after the election there will no longer be any concern for the Tamil people," she said.
Yet some in the Tamil diaspora, where Mahinda Rajapakse is a loathed figure, are willing to give Fonseka at least a chance.
"The Tamil diaspora wants Mahinda to be defeated," said David Poopalapillai, national spokesman for the Canadian Tamil Congress.
"The climate would change and the rays of hope would come. It would bring some change in the country in the political climate," he said.
Latest Headlines in Sri Lanka