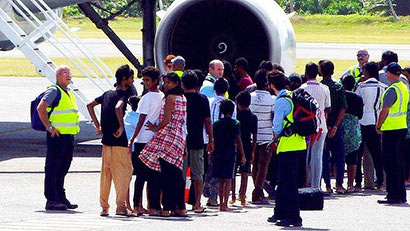 A group of 157 Sri Lankan asylum seekers who were held at sea by Australian authorities for almost a month, sparking a legal challenge against their detention, have arrived at a detention camp on mainland Australia, government officials said on Monday.
Indian consular officials are due to begin interviewing members of the group, whose boat was intercepted by the Australian navy several weeks ago after setting sail from India. The group was taken to the remote Curtin Detention Centre in outback Western Australia on Sunday and Monday.
The interception and detention of the group has thrown a spotlight on Australia's controversial and secretive policies dealing with asylum seekers, under which the government has pledged to turn back boats carrying potential refugees.
Such policies have faced growing international scrutiny and criticism from rights groups, The New York Times editorial board and the United Nations, as well as legal challenges in Australia's courts.
The group of Sri Lankan men, women and children are the first asylum seekers traveling by boat to reach mainland Australia in seven months, an apparent setback for the government's policies.
Conservative Prime Minister Tony Abbott's government had boasted of its success in deterring asylum seekers from taking the perilous journey, often in unsafe boats after paying people smugglers in Indonesia, issuing updates on how long it has been since the last boat arrival in Australia.
Australia normally uses offshore detention centers in Papua New Guinea and the tiny South Pacific island nation of Nauru to process would-be refugees who arrive on boats.
While the group of Sri Lankans will be processed at the Curtin camp, Immigration Minister Scott Morrison has stressed they will not be resettled in Australia and has released little information about them.
India has agreed to take back any of its nationals among the group but a lawyer asked to represent the Tamils said they should first be interviewed by Australian authorities to establish any claims for asylum.
"Now these people are in Australia, the ordinary protections of Australian law must be afforded to these people," human rights lawyer David Manne told Australian Broadcasting Corp. (ABC) radio.
"On the information at hand so far, it's completely unclear what role India could properly play in this process," Manne said. "It's a fundamental principal of refugee law that no person should have to deal with the authorities of another country from which they may have fled."
Morrison contends the group are economic refugees.
"These people have come from a safe country of India. They haven't come from Sri Lanka," he told ABC radio.
"If we can't take people back to India, what is next? New Zealand? India are a vibrant democracy, they are a good partner, they're working closely with us," Morrison said.
Manne said a High Court hearing, due to take place next week, to discuss the fate of the refugees was now in question.
"It's a very unclear situation, we're looking to see what aspects of the case will proceed," he said.
The asylum seekers were brought ashore in the Cocos Keeling Islands at the weekend after being held for weeks on an Australian customs boat. They were transferred in smaller groups by plane to Curtin.
The government made the decision to bring them to Australia after the intervention by the High Court. Their plight became known after a separate group of 37 Sinhalese and four Tamils on another boat were quietly intercepted and returned to Sri Lanka by Australian authorities.
About 16,000 asylum seekers came on 220 boats to Australia in the first seven months of last year, but the government says there have been no illegal boat arrivals since December 2013.
(Reuters)