Sri Lankan authorities blame Tamil robbers in Canadian's death
Posted by Editor on February 25, 2013 - 4:30 pm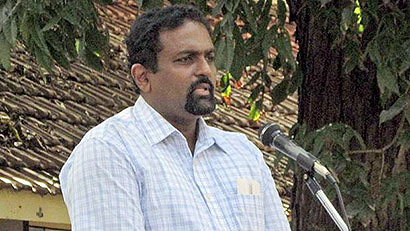 Submitted by Walter Jayawardhana
Four suspects have been arrested on suspicion of robbing and murdering a Canadian citizen in Sri Lanka. Andrew Mahendrarajah Antonipillai, a 53-year-old Montrealer, was found slain May 3 in his war-torn homeland.
After leaving Sri Lanka in the 1980s, the Tamil-Canadian returned early this year to claim that his properties had been seized in the aftermath of the island nation's 30-year civil war.
The military conflict, which erupted because of an ethnic divide, ended in 2009 when the Sinhalese-dominated Sri Lankan government army routed the Tamil Tiger rebels.
Mr. Antonipillai's body was found near Killinochi, a former Tamil rebel stronghold where the military has been criticized for seizing properties.
The ongoing land disputes in the area had led to speculation that the Sri Lankan government was implicated in the crime, which was reported internationally.
But a spokesman for the Sri Lankan High Commission said Friday that the government believes the motive behind the crime was merely robbery.
Sumith Dassanayake, a spokesman for the High Commission, said the four accused include three men with Tamil surnames and one with a Sinhalese sirname who hailed from the neighbourhood that Mr. Antonipillai had been staying in.
He alleged that they had been following the Canadian prior to the slaying. "They were monitoring the activity because this man was putting up a house and he was a rich man it seems," said Mr. Dassanayake.
He added that "it is very unfair to accuse the government and government forces without details" and that "in every society you can find these kind of things."
News of the arrests was first reported Thursday night by The Island newspaper in Sri Lanka.
The article said that Mr. Antonipillai "was hacked to death with an axe … in the belief that he possessed a lot of cash."
The report added that iron rods were also used in the slaying of the Canadian. "At the time of his death he was building a house on a property owned by him," it said. (Courtesy: The Globe and Mail)
Latest Headlines in Sri Lanka