"Sri Lankan election won by the people, not by RAW": Mangala
Posted by Editor on January 19, 2015 - 10:47 am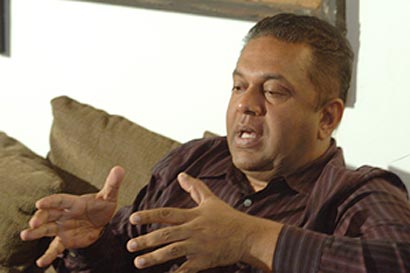 Sri Lanka's election was won by its people, the country's new Foreign Minister Mangala Samaraweera said in a sharp response to a Reuters report that the R&AW station chief in Colombo had been "expelled" for helping the Opposition to victory in the island nation.
"There is no substance in the report at all," Mr. Samaraweera, who held talks with his Indian counterpart Sushma Swaraj, told The Hindu on Sunday evening, echoing the sentiments expressed by the External Affairs Ministry in Delhi. It is the Sri Lankan Foreign Minister's first visit abroad.
The Reuters news agency reported that the "expulsion" of India's spy agency chief in Sri Lanka had happened when Mahinda Rajapaksa was President. Previously, a Sri Lankan newspaper had carried the report as a diary item.
"Postings and transfers are in the public domain; when Indian diplomats go, the dates are announced and when they leave Sri Lanka, the dates are available. The dates are in public domain of all Indian diplomats, whether they have completed three years or not," Ministry of External Affairs spokesman Syed Akbaruddin said on the issue earlier in the day.
Stressing that he had had cordial discussions with Ms. Swaraj, Mr. Samaraweera said that Sri Lanka's foreign policy needed a "course correction" and that would happen in the first 100 days of the Maithripala Sirisena presidency.
Asked if by "course correction" he meant addressing the pro-China tilt, Mr. Samaraweera said that under Mahinda Rajapaksa Colombo had followed a "paranoid" foreign policy and had become alienated internationally as well.
The course correction would include all elements, Mr. Samaraweera, who once served as Foreign Minister under former President, told this newspaper in a telephone conversation. "We will put our foreign policy on a firm foundation in the next 100 days," he stressed.
On his talks with Ms. Swaraj, Mr. Saramaweera said they discussed a range of issues and Sri Lanka looked forward to "close coordination" with India.
Referring to the talks, Mr. Akbaruddin said, "India and Sri Lanka have decided to re-engage on the issue of repatriation of refugees currently in India. The talks between officials on this matter will begin before the end of this month."
The talks included areas of political and economic cooperation, the new government's efforts in the reconciliation process, the development partnership between the two neighbours and fishermen related issues, he explained.
Mr. Samaraweera informed Ms. Swraj that the modus operandi for the return of 87 Indian fishing boats was being worked out. Ms. Swaraj has accepted an invitation to visit Colombo for the ninth meeting of the India- Sri Lanka Joint Commission. Mr. Samaraweera is also carrying an invitation for Prime Minister Narendra Modi.
(The Hindu)
Latest Headlines in Sri Lanka