Sri Lankan jumbo Cabinet expanded
Posted by Editor on January 29, 2013 - 7:37 am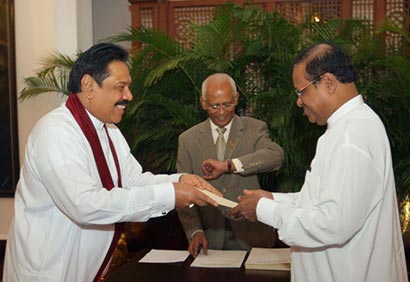 The Sri Lankan Cabinet, one of the biggest in a democratic nation – with 93 Ministers – has been expanded to reward a few more who have exceeded the expectations of President Mahinda Rajapaksa.
The Cabinet of Ministers is now 67 strong, including the executive president, Prime Minister D.M.Jayaratne, and 10 senior Ministers. Another 28 are Deputy Ministers, and, two have been named under a new category, 'Project Ministers.' This takes the total number of Ministers in the 225-member Parliament to 97. There are also a slew of young Members of Parliament, named 'Monitoring MPs,' who have an open ended job of monitoring specified Ministries.
In the 2010 elections, the ruling United Peoples Freedom Alliance had received enough votes to win 144 seats. With members from the opposition United National Party crossing over, and with unquestioning support from the Ceylon Workers Congress and the Sri Lanka Muslim Congress, the UPFA, soon garnered a two-thirds majority in parliament.
Two Ministers promoted
Two Ministers, who were in the forefront of the impeachment of Chief Justice Shirani Bandaranayake, have been promoted. Pavithra Wanniarachchi, who set the ball rolling by making the first allegations against Mrs.Bandaranayake, was rewarded with the electricity ministry. Environment Minister Anura Priyadarshana Yapa who headed the Parliamentary Select Committee which oversaw the impeachment process, and chaired the meeting in which the Chief Justice said she was abused when she presented before the committee, gets the petroleum ministry.
Because of the jumbo size of the Ministry, Sri Lankan government has found innovative ways to accommodate the newly named Ministers. One was to create a new Ministry for Sugar Industries (Sri Lanka is hardly a sugar producing nation), and another, creating a new Ministry for Botanical Gardens and Public Recreation.
President holds on to his portfolios
President Rajapaksa has not diluted the portfolios he holds: defence, finance, ports and aviation and highways. According to an analysis of the Budget for 2013, two-thirds of the finances of the entire budget have been allocated to Ministers under the President.
"Debt Amortisation Payments (d.a.p) account for about 45% of the spending from all the funding allocated to these Portfolios of the President. If the budget estimates sans d.a.p. is evaluated then the share controlled by the President's is still about 52%," the analysis said.
His younger brother Basil is economic development portfolio. A small part of this Ministry has been carved off and a new Minister for investment promotion has been inducted.
The Hindu Report
Latest Headlines in Sri Lanka