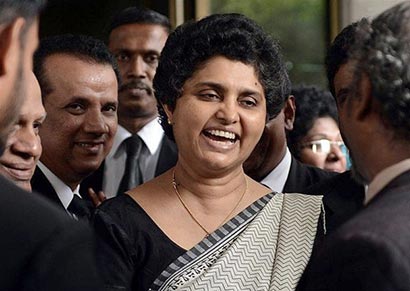 Colombo, Dec 15 (IANS) Sri Lankan lawyers Saturday decided not to accept a new chief justice if the current one is removed without a fair trial.
A government sponsored motion to impeach current Chief Justice Shirani Bandaranayake was recently presented to parliament and then investigated by a parliament panel which found her guilty of most of the allegations.
The Bar Association of Sri Lanka (BASL), the main body representing lawyers in Sri Lanka, held a special meeting on Saturday to discuss the fallout of the impeachment attempt and adopted three resolutions at the special meeting which ended with a heated exchange of words between pro-government and opposition lawyers, reported Xinhua.
BASL president Wijeydasa Rajapaksa said that one resolution adopted at the meeting was that the BASL will not accept a new chief justice.
The other resolutions were to urge Sri Lankan President Mahinda Rajapaksa to reconsider the impeachment motion on the chief justice and if the government is to proceed with the motion, then to enact proper laws to proceed with an impeachment.
The BASl president said that just over 3,000 lawyers attended the special meeting of the BASL which was a closed door meeting and not open to the media.
A tense situation arose following the BASL meeting but Wijeydasa Rajapaksa insisted that during the meeting, there were no objections to the three resolutions.
The Commonwealth, human rights groups and some foreign governments have raised concerns over moves to remove the chief justice.
Source: IANS