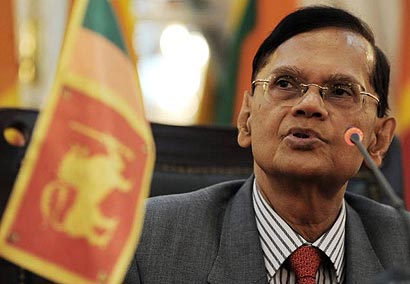 Sri Lanka's External Affairs Minister G.L. Peiris will visit China next week in an effort to strengthen relations between the two countries, the ministry said Friday.
Peiris will visit China on the invitation of Chinese Foreign Affairs Minister Wang Yi Feb 10-13 as a special envoy of President Mahinda Rajapaksa, Xinhua reported citing the foreign ministry.
It is believed the visit could be aimed at drumming up support for Rajapaksa government ahead of a resolution on Sri Lanka's poor human rights record which will be presented before the UN Human Rights Council (UNHRC) in March.
The Sri Lankan government had always denied allegations of war crimes that surfaced after a three-decade civil war ended in 2009.
However, pressure from the international community has been increasing with British Prime Minister David Cameron warning last November that Britain would push for a probe into allegations of civilian deaths during the war unless the Sri Lankan government conducted credible investigation.
China, Russia and Saudi Arabia are the three other members of the UNHRC and the Sri Lankan government over the past few weeks has been sending officials to UN member countries to gain backing ahead of the Geneva session.
Sri Lanka's government had UNHRC resolutions passed on it in 2012 and 2013 but it had hardly any effect on the ground, according to the US which has warned that the "international community's patience is running out".
US Assistant Secretary of State for South and Central Asia Nisha Desai Biswal, who concluded a visit to Sri Lanka last week, met with the Geneva-based envoys of the UN member countries Thursday to discuss the US resolution on Sri Lanka.
(IANS)