Sri Lankan Navy turns back boats bound for Australia
Posted by Editor on July 16, 2012 - 2:03 pm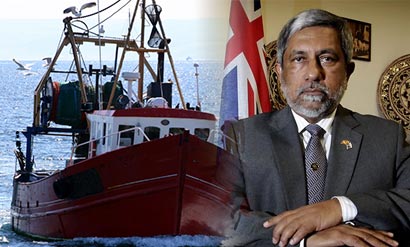 TONY EASTLEY: Well as you've heard at the weekend Sri Lanka's navy forced one boat back to shore and stopped another leaving, arresting 130 people on board one of the boats bound for Australia.
A former admiral in the navy is now the country's high commissioner to Australia.
High commissioner Thisara Samarasinghe is speaking here with AM's Tom Nightingale.
THISARA SAMARASINGHE: They were brought back, physically stopped at sea, boarded, boat is taken over like any other coast guard or the navy can do and taken to the harbour.
TOM NIGHTINGALE: Does the navy use force in any occasions?
THISARA SAMARASINGHE: Absolutely not, there is no – we never use force because they are unarmed. When we stop they have no other option than turn round with us, I mean they can't keep on going.
It's a matter of they get arrested, they surrender, and they turn the boat around. That's simple as that.
When the boat is turned away they are being questioned as to why they wanted to leave or what motivated them to leave and who are the people whom they made contact.
TOM NIGHTINGALE: Is there any occasions where the navy can't turn the boat around because of whatever circumstances may be involved?
THISARA SAMARASINGHE: No, in the middle of the sea, you see, if you take the distance from here – Australia to Sri Lanka – if you get a boat out at sea, their survival is the most important. So we might even turn them around or take everybody on board and let the boat drift or I mean – their life is most important when navy arrest.
Their safety is most important for the navy when they are arrested.
TOM NIGHTINGALE: What will happen to those on board the boats?
THISARA SAMARASINGHE: What will happen? They will be put to magistrate courts, depending on the evidence. They will be detained for further investigation until further, otherwise they'll be released on bail.
They'll be required to come back and there is a law of the land will prevail. This is not the first time we have had opportunities. And when I ask some of these people whether they would try to do the same thing again, they said they will not do that and some people may do it again.
TOM NIGHTINGALE: So turning the boat around may not deter people from doing the same thing again?
THISARA SAMARASINGHE: No, no, turning the boat around will deter people. I mean that is a physical barrier. I mean we don't, I mean they know that they can't leave Sri Lankan shores.
TOM NIGHTINGALE: So you're saying the people on the boats at the weekend won't try another boat journey but they will use other methods to get to Australia. What other ways would people try to get…
THISARA SAMARASINGHE: There is no other ways, they are not well educated, they don't have money.
You know the way, how you can come legally to Australia. The business migration, academic migration, you can pay money, large amount of money and get migration.
So they are unable to do this, so they will want to maybe do a course of training, request for education and all those factors.
TONY EASTLEY: The Sri Lankan high commissioner Admiral Thisara Samarasinghe speaking with AM's Tom Nightingale.
ABC News
Latest Headlines in Sri Lanka