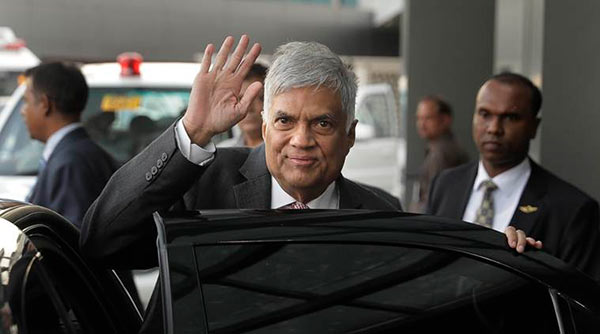 Sri Lankan Prime Minister Ranil Wickremsinghe is expected to meet his counterpart Narendra Modi in the national capital on Wednesday. Wickremsinghe, who arrived in the capital on Tuesday to begin a five-day visit to India, will hold talks with Home Minister Rajnath Singh, Minister of External Affairs Sushma Swaraj and Transport Minister Nitin Gadkari today as well.
Ahead of his visit, Wickremsinghe had said that he hopes to boost economic ties with India.
The two Prime Ministers are likely to deliberate the upgraded Free Trade Agreement – ETCA (Economic and Technical Cooperation Agreement), reported ANI. Wickremsinghe is also expected to sign an MoU with India regarding developing energy and infrastructure projects in the eastern port district of Trincomalee. Both bilateral deals have been met with resistance from Sri Lanka's opposition.
India has its eyes on the Trincomalee port, an oil storage facility, as it has an Indian Oil Corporation depot located nearby. The deal will allow India to jointly operate the facility with Sri Lanka. Workers of Sri Lanka's state-run petroleum company are, however, against the proposed deal, and began an indefinite strike on Monday, threatening to cripple the country's entire transportation sector, reported PTI.
The Sri Lanka Prime Minister, who is accompanied by International Trade Minister Malik Samarawickrema and Disaster Management Minister Anura Priyadarshana Yapa, is also likely to visit Udaipur and meet Congress president Sonia Gandhi.
(Indian Express)