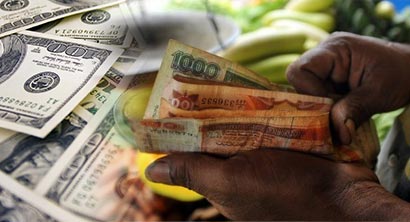 The Sri Lankan rupee ended weaker on Wednesday on importer dollar demand, dealers said, a day after the International Monetary Fund urged the country's central bank to rebuild foreign reserves while maintaining exchange rate flexibility.
Following its second review of a $1.5 billion three-year loan programme, the IMF said it had discussed with Sri Lankan authorities the need to push forward with reforms due to an uncertain external environment.
Rupee forwards were active, with two-week forwards ending at 152.35/50 per dollar, compared with Tuesday's close of 151.85/95.
"Today importers desperately bought dollars. The IMF statement on allowing a flexible exchange rate may be the reason for today's depreciation as we did not see the central bank guiding the market," said a currency dealer, asking not to be named.
"Anyway, the rupee is under pressure to depreciate and we expect there will be around 6-8 percent depreciation during this year. The possibility of the central bank raising interest rates to prevent bond exit is also speculated."
Another dealer said inflow from an up to $1.5 billion sovereign bond issue sooner than later could help ease some pressure on the currency.
Sources who know about the bond deal said top central bank officials have already left for the United States for a road show for the sovereign bond issue announced last month.
Dealers said the rupee would be under pressure due to dollar demand from importers ahead of the traditional Sinhala-Tamil New Year in mid-April, and as foreign investors continue to sell government securities.
S&P Global Ratings said in a statement on Tuesday that it considers exchange rate stability will remain a major priority for Sri Lanka's policymakers and its central bank, limiting monetary flexibility.
The central bank is struggling to maintain a flexible exchange rate in the face of heavy foreign outflows from government securities. The rupee has depreciated 1.2 percent so far this year, having lost 3.9 percent of its value against the dollar last year.
Foreign investors bought a net 701 million rupees ($4.64 million) worth of government securities in the week ended March 1, recording the first weekly net inflow for the year. They have sold a net 63.76 billion rupees of such instruments so far this year.
Sri Lanka could face balance-of-payments pressure due to foreign outflows from government securities, a government document showed last month, even as the island nation was in the process of raising up to $2.5 billion from foreign borrowing. ($1 = 151.2000 Sri Lankan rupees)
(Reuters)