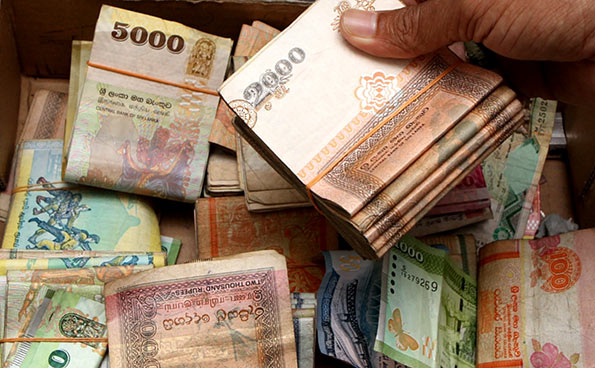 Sentiment on the Sri Lankan rupee improved on Friday, as reflected in the forwards market, after the country signed a $1.5 billion, three-year loan agreement with the International Monetary Fund.
Traders said banks sold dollars on expectation the local currency would further appreciate.
The spot rupee, which has barely seen any trading since Jan. 27, was not actively traded on Friday as well, but the movement in short-term dollar/rupee forwards indicated the rupee was being bid up.
Before the market opened, the IMF said it had reached a staff-level agreement with Sri Lankan authorities for a $1.5 billion, three-year loan to help the island nation avert a balance of payments crisis.
"Banks are selling dollars. With the IMF announcement, investors hope foreigners will buy more bonds and there are some remittance conversions expecting rupee to strengthen," said a local bank currency dealer, requesting not to be named.
A dealer from a foreign bank said foreign investors have been buying government securities and more inflows are likely because offshore investors would be eager to buy more bonds after the IMF loan.
The rupee has been under pressure due to foreign investors selling government securities amid Sri Lanka's economic woes, but they net bought bonds worth 11.7 billion rupees ($79.92 million) in the four weeks to April 20, central bank data showed.
The spot next dollar/rupee forwards, which indicate prices for the rupee on the day following the conventional spot rate settlement and in this case are six days ahead, were being quoted as a proxy for the spot currency and at 146.10/50 per dollar at 0550 GMT, compared with Thursday's close of 146.50/70.
Dealers were also analysing the impact of Finance Minister Ravi Karunanayake's move after he asked exporters last week to bring home their earnings, received on or after April 1, to improve foreign exchange inflows.
Sri Lankan exporters are holding earnings worth around $3 billion abroad, the central bank Governor Arjuna Mahendran said on Tuesday, citing the bank's estimates.
Sri Lanka's main stock index was up 0.67 percent at 6,485.42 as of 0551 GMT. Turnover was at 574.7 million rupees ($3.94 million). ($1 = 145.8000 Sri Lankan rupees)
(Reuters)