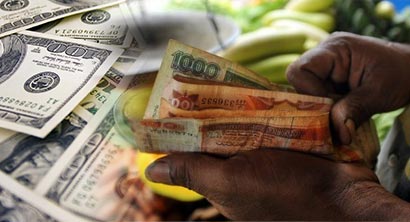 The Sri Lankan rupee held steady for a seventh straight session on Tuesday, with dealers hesitating to trade in the local currency below 145.50 per dollar anticipating central bank intervention to defend the currency, dealers said.
Foreign investors were seen selling the U.S. currency, which helped ease pressure on the rupee due to demand for dollars by importers, dealers said.
The spot rupee was at 145.50/55 per dollar at 0618 GMT, unchanged from Monday's close.
One-week rupee forwards were at 145.74/75 per dollar, from Monday's close of 145.75/80.
"Nobody wants to trade the spot below 145.50 fearing some central bank actions as in the past," a currency dealer said, asking not to be named.
"There is no intervention from the central bank. But the market seems to be waiting for some inflows."
Central bank officials were not available to comment on whether the spot rupee had been capped at 145.50 per dollar.
The spot rupee is usually managed by the central bank, and market participants use the forward market levels for guidance on the currency.
Sri Lanka's central bank retired around $470 million worth Sri Lanka Development Bonds last week, instead of reissuing them, using inflows the country got from a syndicated loan recently, a central bank official told Reuters on Tuesday.
The move may put pressure on the country's reserves, two dealers said.
The central bank has largely not intervened to defend the rupee ever since a dual-tenure sovereign bond issue raised $1.5 billion in July.
Net foreign inflows into government securities have jumped 28.5 percent to 295.7 billion rupees ($2.03 billion) through Aug. 17 since the International Monetary Fund approved a three-year, $1.5 billion loan on June 4, according to the latest central bank data.
Meanwhile, Sri Lankan shares edged up, with the benchmark Colombo stock index rising 0.08 percent to 6,600.09 as of 0644 GMT. Turnover stood at 772.2 million rupees ($5.31 million).
($1 = 145.4500 Sri Lankan rupees)
(Reuters)