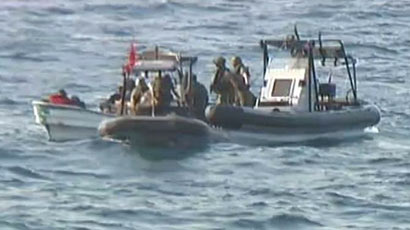 A cargo vessel "MV Orana" owned by an Ajman based shipping company, Kassab Inter Shipping LLC was hijacked by Somali pirates on 2nd December 2010 with twenty crew members on board including a Sri Lankan seaman named Mr. K.A.S.Soorasena.
The Ministry of External Affairs, through the Consulate General of Sri Lanka in Dubai and the High Commission of Sri Lanka in Nairobi, was in constant contact with the owner of the vessel with a view of securing the release of Mr. Soorasena while keeping his family briefed about the developments on regular basis.
During a recent visit of President Mahinda Rajapaksa to Dubai to attend the World Energy Forum, the Minister of External Affairs, Prof. G.L. Peiris urged the shipping company to make early arrangements to secure the release of Mr. Soorasena and also had requested the UAE authorities to expedite the process.
It is now confirmed that Mr. Soorasena has been released and handed over to the Sri Lanka High Commission in Nairobi, which is making arrangements for his immediate repatriation to Sri Lanka.  Accordingly, Mr. Soorasena is scheduled to arrive in Colombo via Dubai shortly.
The Ministry of External Affairs along with the Ministry of Ports and Highways had already advised Sri Lankan seafarers to be cautious on taking the sea route close to Somalia due to the continuous acts of piracy by Somali armed groups.
The Ministry of External Affairs appreciates the efforts taken by the Ajman based Shipping company and the UAE authorities in securing the release of Sri Lankan seaman Mr. K.A.S. Soorasena.