Sri Lankans go to polls in 'referendum' on Rajapaksa comeback
Posted by Editor on August 17, 2015 - 1:07 pm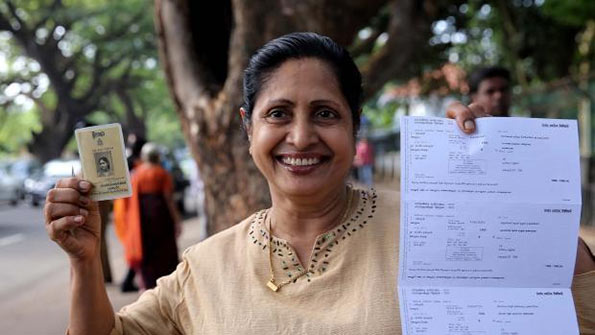 Sri Lankans went to the polls on Monday to elect a new parliament in what amounts to a referendum on ex-president Mahinda Rajapaksa's comeback bid, with the reformist alliance that swept him from power seeking a stronger mandate.
The nationalist strongman has set his sights on becoming premier of a government led by his Sri Lanka Freedom Party (SLFP). But the former ally who beat him at the polls in January, President Maithripala Sirisena, now leads the party and he rules that out.
The tangled personal rivalry has overshadowed campaigning on the Indian Ocean island of 20 million people, which has a history of political feuding that has often spilled over into violence and even the assassination of its leaders.
Sirisena, in a cross-party alliance with a government led by the United National Party (UNP), has sought to break with that troubled past by passing reforms to weaken his own presidency and make the government more open and accountable.
Some voters in Colombo said they were casting their ballots for reconciliation and good governance, showing sympathy for the UNP of Prime Minister Ranil Wickremesinghe.
"I came to vote to have just and fair governance … for people to live like humans," lawyer Rushdi Halid told Reuters.
Minority Tamils and Muslims have rallied behind the UNP-led alliance, which pundits say has the best chance of forming the largest bloc in the 225-seat parliament and advancing reforms that have stalled because it lacks a majority.
Wickremesinghe said he was very confident of beating Rajapaksa. "He has lost already," he told reporters after voting. "I haven't got to worry any more about Mahinda Rajapaksa – in a free and fair election we can hold him."
NATIONAL HERO?
Rajapaksa also exuded confidence after voting in his home district in his southern power base: "We will win, that is certain. My message is to remain calm and peacefully enjoy the victory."
The burly 69-year-old is revered as a war hero by many of Sri Lanka's Sinhala speaking Buddhist majority for crushing a 26-year Tamil uprising in 2009. Opponents accuse him of running a corrupt, brutal and dynastic regime – charges he denies.
At stake for the wider world is whether Sri Lanka sticks to its pro-Western course or turns back towards China. Under Rajapaksa, Beijing pumped billions of dollars into making the island part of a new "Maritime Silk Route".
"We need development, to live without fear of war, a country without bomb explosions," said Shanthi Bandara, a 52-year-old Colombo housewife who backed Rajapaksa.
Voting was slow in the Tamil-speaking north, where memories of the civil war are fresh and issues like restitution of land occupied by the military remain unresolved.
IT'S PERSONAL
Sirisena quit Rajapaksa's government last year to run against him, pulling off a stunning victory in presidential elections on Jan. 8.
Yet he has moved only belatedly to assert his control over the SLFP and to block the path to the premiership of his erstwhile ally and party rival.
In a widely leaked letter, he accused Rajapaksa of holding the party "hostage" and ruled out naming him prime minister. Sirisena, 63, has also used his power as party leader to purge Rajapaksa loyalists from key posts before the election.
The maneuvering could determine whether Sirisena can form a unity government comprising Wickremesinghe's center-right alliance and his own loyalists from the SLFP, sending Rajapaksa to the opposition benches, say analysts.
Voting ends at 4 pm (0630 EDT), and the final count is due on Tuesday.
(Reuters)
Latest Headlines in Sri Lanka