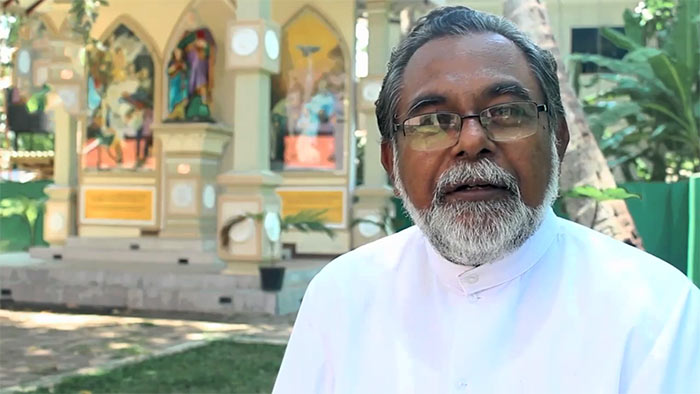 Neither the Cardinal, Bishops nor any representative from Sri Lanka's Catholic Church would participate in the 75th Independence Day celebrations, on Saturday (February 04), as it is a 'crime' and waste of funds that is being committed against the citizens of Sri Lanka, Spokesman for the Archdiocese of Colombo, Rev. Fr. Cyril Gamini Fernando stated.
Addressing the media yesterday (February 01) at the Colombo Archbishop's House, Fr. Fernando lambasted the Government over the colossal amount of public funds being spent for the Independence Day celebration.
He noted that the Catholic Church opposes such waste at a time when the country's economy is in a bad state.
What should happen is all political parties, that have ruled this country for the past 75 years and shoved it towards this state of bankruptcy, should admit their mistakes publicly and ask the people for their forgiveness, he said.
"Measures should be taken to bring all those responsible for robbing the country before the law and wrest all stolen money from them. What Independence can be celebrated spending Rs 200 million, when the country is unable to pay back the foreign loans that had been obtained, when, according to a report issued by the World Food Programme (WFP), 30 percent of its population was suffering from hunger and 33.4 percent children below the age of five years were suffering from malnutrition," he queried.
"According to the WFP 86 per cent families were able to obtain only food that had low nutritional value at a cheap price," he said, noting that the Government was going begging for loans from country to country for funds to purchase food, fuel, pharmaceuticals and other essentials.
The income of the majority population has plummeted while they were being distressed by the increasing cost of living. The Government on the other hand was only piling up direct and indirect taxes on the already suffering public," he said.
The Spokesman for the Colombo Archbishop's House expressed the Church's reservations on how the Government thought to celebrate 75 years of Independence when people were losing jobs, when small enterprises were collapsing, when the rule of law was being grossly violated and human rights were being desecrated without any qualms.
People's right to speech and to hold peaceful demonstrations were being violated by misusing Acts like the Prevention of Terrorism Act (PTA). "To say the least the Government was unable to maintain 24 hour power supply at least for the sake of children sitting their G.C.E. Advanced Level Examinations during this period," he lamented.
Fr. Fernando accused the Government of spending such a colossal sum of money to celebrate Independence when it had come to a situation that it was unable to maintain the State health service with the provision of medicines and healthcare facilities thereby compromising the lives of patients.
Fr. Fernando, who is also the Editor of the 'Gnanartha Pradeepaya,' the Catholic Publication, said that there was a question as to whether the citizens were able to proudly celebrate 75 years of Independence from the British rule when it was doubtful as to whether "our people had a present and a future to talk about with pride."
(Source: Ceylon Today – By Dilanthi Jayamanne)