SRI LANKA'S FORMER POLICE CHIEF TO TEACH COUNTER TERRORISM IN INDIA
Posted by Editor on May 17, 2012 - 7:04 pm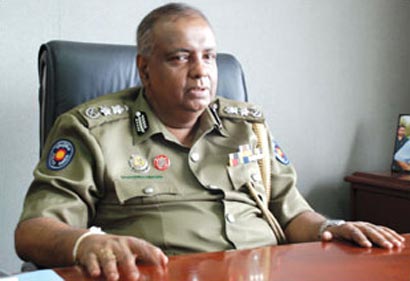 Onlanka News – By Walter Jayawardhana
Dr. Mahinda Balasuriya, Sri Lanka's former police chief will be teaching counter terrorism and how Sri Lanka defeated the 30 year terror reign of the Liberation Tigers of Tamil Eelam (LTTE) at his alma mater in Vadodara ( formerly Baroda) in the Indian state of Gujarat.
The Maharaja Sayajirao University's studentsare set to learn from Balassuriya  a lesson or two in counter terrorism and international affairs when he teaches some of his experiences as one of the key strategists in the war against the LTTE where the Lankan forces brought to an end a 30 year long struggle of a fully armed and trained terrorist force by Indian intelligence agencies and army. The university is where Dr.Balasuriya obtained his Bsc 36 years ago.
The Times of India said, "Balasuriya, who serves as Sri Lanka's ambassador to Brazil, had completed his BSc from the varsity in 1976. Now, he is returning to his alma mater as a senior visiting fellow in the political science department.
"Last month, he wrote a mail expressing his desire to offer his services to his alma mater. We want his visit to coincide with 'Reunion 13' – the first international alumni meet in January 2013," MSU vice-chancellor Yogesh Singh said.
This is for the first time that a serving diplomat will get associated with MSU.
After his BSc, Balasuriya joined the Lankan police as an assistant superintendent of police in 1978 and rose to the inspector general of police post in 2009 to head the island country's police force.
Balasuriya has also authored a book 'The Rise and Fall of the LTTE' based on his doctoral thesis in political science at the St. Petersburg University, Russia."
Latest Headlines in Sri Lanka